"Hi, how are you?"
"I'm doing well. Thanks for asking. How ar—"
"Gimme your email."
"What?"
"Gimme your email."
"Uhhhh, yeah, no thank you…"
It's easy for marketers to forget social media's original purpose. In the beginning, social platforms were simply a tool for connecting people to friends, family, and other like-minded individuals.
Now, a big part of social media includes B2B and B2C businesses promoting their products and services with ads. For example, Hootsuite reports that 83% of B2B content marketers use paid social media ads and promoted posts.
The problem is there is a war against ads. First, more platforms are offering premium subscriptions that limit the number of ads users see. Second, the algorithms of social media platforms themselves—with a few exceptions—limit the visibility of company pages and posts.
Thankfully, there are ways to organically increase your social media presence. Using events like trade shows is a great place to start.
11 Ways to promote your trade show booth WITHOUT making it all about you
An effective social media strategy for 2022 means going back to the basics: making a human connection.
Of course, there are also technical best practices like tags, hashtags, and CTA's. But all these tools support the central goal of speaking to your audience in a way that they relate to.
1. Tag the booth staff
Tagging your booth staff is a great way to tap into your employees' network. A personal page has more reach than a company page. This is true for all platforms. Tagging booth staff and other employees signals to followers of the human aspect of the business.
2. Tag the show
Tagging the trade show on social media is another way to get attention—especially for bigger, trending shows. Piggy backing off exciting industry news puts your foot in the door as part of the larger community.
3. Give your exhibit house a shout out
Robert Cialdini is the best-selling author of Influence: The Psychology of Persuasion. One of the six principles of influence he mentions is "reciprocity." The idea is that when you do some random act of kindness or give someone something, they will feel the urge to give back.
Sometimes giving back involves making a purchase or something as simple as resharing a post on social media. Public praise is good for social media. It's like letting the world know it's your son or daughter's birthday on Facebook.
4. Use the show hashtags
There are some best practices here. Different platforms react differently to hashtags. For photo and video-heavy platforms like Tik Tok and Instagram, more hashtags are acceptable. But in general, don't use more than three.
If possible, use the show hashtag in a regular sentence. For example:
"Saw some old faces and met new friends at #showname this week! Special thanks to____ (tag booth staff, exhibit house, etc.). Without your help and dedication, not only would this not have been possible, but it would also not have been this fun."
5. Post pictures
Next to videos, pictures are the easiest way to increase a post's visibility on social media. However, some pictures are sure to perform better than others. For instance, pictures with people are better than pictures of inanimate objects.
6. Post videos
Videos are the craze right now. It's important to note that many social media platforms have a vested interest in keeping users on the platform for as long as possible. Hence, one reason why they limit a company's reach is because companies often post links that take users off the platform.
But if you embed videos in your post, you engage followers, keep them on the platform, and increase your impressions.
7. Conduct an in-booth interview
Shooting a video raises some questions. What should be filmed? How should it be filmed? Should it be livestreamed? Should it have a full production with editing and music?
The answer is: depends. There are pros and cons to both. A good balance for videography is to have a compelling subject or action such as an interview. The real challenge is finding a thought leader to speak with and deciding whether to livestream or not.
In either case, be sure to have your questions pre-written, and don't let the interview drag on for more than 2 minutes!
8. Respond to comments
If the strategy is to connect with other humans, then responding when people comment on your post takes top precedent. In fact, one way to increase impressions on LinkedIn is to provide links to your website in the comments and not in the original post.
By linking away from the platform in the original post you can restrict your visibility. But you can provide links when responding in the comments.
9. Write a post-show blog (or share someone else's)
Repurposing quality content is a great way to maintain a steady flow of new marketing material. Consider this. From the content creator's perspective, they will have seen, posted, and written about the trade show booth on social media a few times now. But that doesn't mean everyone else has.
Social media is like a conveyor belt. Reposting old content is rarely seen by the same audience—especially if it's put in a different format.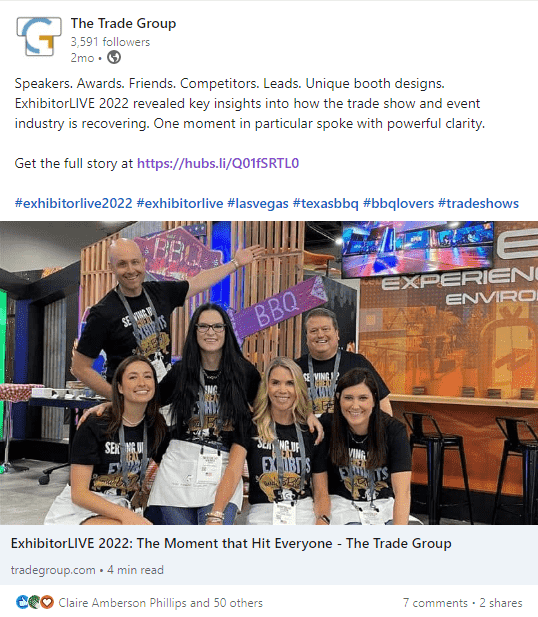 10. Write a great Call-to-Action (CTA)
Every post needs a CTA. But if linking away from the platform decreases your visibility and you don't post a link, what should your CTA be? We've found the following to be helpful:
What do you think, is ____ good or bad? Comment below!
Are we missing something? Tell us below!
Thoughts?
CTAs for links to blogs, case studies, etc., should be clear and precise more than anything else. For example, it may sound cliché to say "click," but it's clear. Clarity is paramount in CTAs. People need to be told exactly what to do.
11. Get your employees to like, share and comment
This is huge. Personal accounts have access to more visibility than company pages. For example, Everyonesocial found that
On average, employees have 1,090 social connections (and growing)
Employees have 5x more reach than corporate accounts
Social followers of your employees are 7x more likely to convert.
Motivating employees to share is a topic for another time, but for some companies, simply sending a weekly email reminder helps boost engagement tremendously.
Conclusion
Did you get any ideas from this blog? If you want more ideas (and templates) for promoting your trade show booth on social media and on other outlets, start with our guide on getting on attendees' preset agenda.
The Trade Group is a full-service trade show and event marketing company. We will work with you to create an exhibit or an event that brings in leads and helps you achieve your business goals. Contact us here or give us a call at 972-734-8585.
Photo cred: Wikimedia Commons