TTG's Peter Pham happened to connect with representatives from Mavs Gaming at DreamHack Austin, an event TTG manages, and esports broadcast partner Laurent Genin-Satoh recommended TTG for the project. Maverick's owner Mark Cuban had also been on stage at two events TTG handled—IEM Intel Extreme Masters and the launch of ELEAGUE at CES—so he had first hand knowledge of TTG's expertise in creating esports environments and experiences.
According to Neeshu Hajra, VP of Business Development at The Trade Group, "The Mavs appreciated that fact that we could bring all of our experience in the esports arena to bear. For example, we know what type of desks suit esports players best, including what sizing is appropriate and tournament ready, which was of utmost importance when the Mavs chose us."
The Challenge: Create a multi-purpose space for players and guests
The main priority for this permanent, interior build-out project was to create a home base for Mavs Gaming pro esports players, coaches and executives. In addition, the Mavericks also wanted the space to be suitable for hosting esports tournaments, parties, receptions, meet-and-greets and other live events.
TTG oversaw the demolition and build out of the interior, production of branded graphics and other decorative elements. The project was conducted in multiple stages over several months.
In phase one, TTG oversaw the cleaning out the former Maverick's HQ, which consisted primarily of office cubicles, industrial lighting, informal signage and pipe and drape. Next, the new space started taking shape as walls were put up and graphics installed. The new space includes:
Two large open rooms for esports competitions and live events.
Three executive offices.
Player's lounge and practice room.
Player's locker room.
Production rooms and storage space.
Men and women's restrooms.
The second phase involved building the main tournament stage and installation of player desks. A cyclorama wall, mirrors and the player's lounge were constructed during the final phase.
Cool, custom design details and live streaming pods brought the project home
Before TTG earned a reputation as an esports expert, the company was mostly known for its award winning design work for live events and experiences. That area of expertise came shining through in the Mavs practice arena and event space.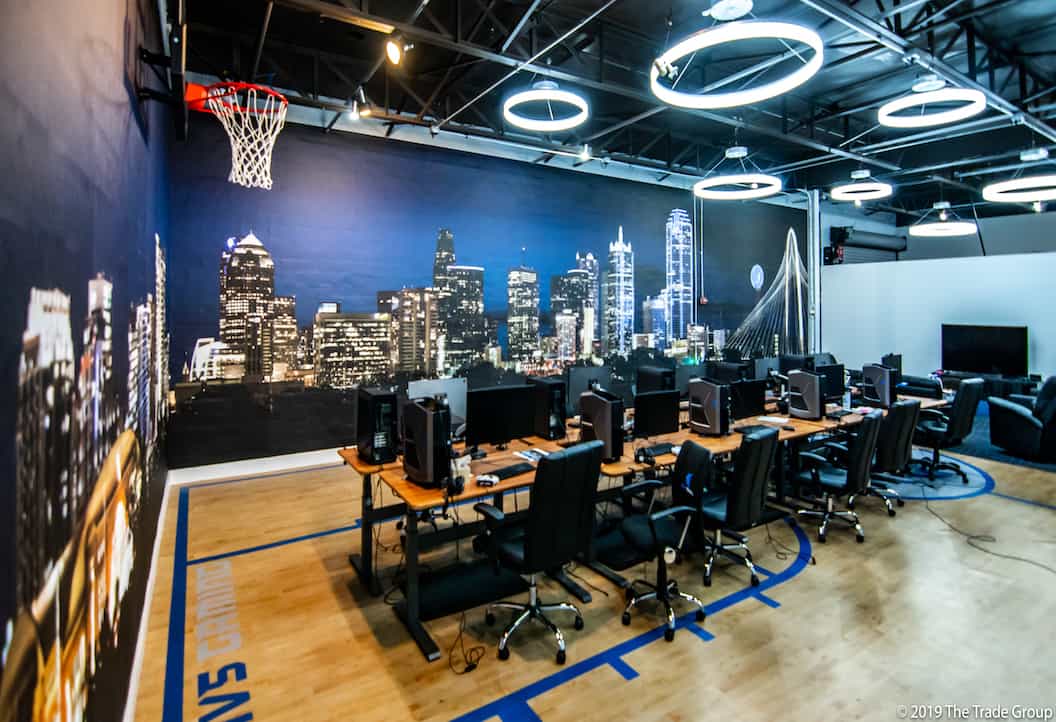 Because the Mavericks and Mavs Gaming are all about the NBA, the sport of basketball is woven into many design elements throughout the space. The Mavericks and Mavs Gaming brands also come through loud and clear at every turn. Some of the key design elements created by TTG include:
Custom printed vinyl flooring reminiscent of a basketball court and adorned with the Mavs Gaming logo.
Custom Mavs Gaming backlit logo sign constructed of dimensional cut acrylic.
Branded, painted wall graphics throughout.
Branded, vertical acoustical panels throughout.
Custom printed Dallas skyline mural in the players' lounge (which was also photographed by the TTG photography team).
Backlit SEG fabric graphics on player desks that can be swapped with different team names.
The aforementioned curved, cyclorama green screen wall that runs floor to ceiling.
Mavs Gaming logo painted on the building exterior.
In addition, Mavs Gaming tapped TTG to construct two live streaming pods in the main practice arena. The pods include high-end, green screen backdrops so streamers can easily customize the look of their live broadcasts.
Since completion, the transformed space has been a huge hit with players and guests
Whether it's conducting daily practice sessions or hosting esports competitions, the Mavs Gaming players, coaches and executives truly have a one-of-a-kind home base. The Maverick's organization has also been able host numerous events and rent the facility to others who need a large, functional space to entertain.
TTG project manager KT Salzmann hopes to work with the Mavericks again soon. "We're really delighted with how this project turned out. The Mavericks and Mavs Gaming entrusted us to transform this space into a place they could call home, and they were very pleased with the end result. Should they ever need our assistance again, we'll be there in a heartbeat," Salzmann says.
Need help with a permanent, interior build-out design and install?
The Trade Group would love to learn more about your project. To speak with an interior design specialist, give us a call at 800-343-2005.