This is the second year Subnation and TTG have collaborated on projects at E3. Subnation is the multi-platform media brand of Big Block Media Group that celebrates the culture and lifestyle of gaming and esports. For E3 2019, Subnation asked TTG to help support its production of the ESPORTS ZONE, as well as an offsite party held during the event. The ESPORTS ZONE serves as the epicenter of gaming content and community competitions at E3.
Subnation tapped TTG to help with fabrication services and provide onsite support for the main 5v5 esports stage, free to play stations, tournament stations and a content stage for the event.
TTG also supported other ESPORTS ZONE sponsors, including Shacknews, Respawn by Razer and HyperX. These activations included content stages, relaxing stations, gaming lounge, photo opps and more.
Facebook Gaming and Oculus
Ever since Facebook Gaming entered the live streaming scene, TTG has been the company's go-to resource for supporting its exhibits and experiences at live events. This support also includes activations for Oculus, the virtual reality innovator owned by Facebook. At E3 2019, TTG was responsible for exhibit design, fabrication and onsite support for both the Facebook Gaming and Oculus exhibits.
The massive Facebook Gaming exhibit featured a double deck structure and a variety of spaces to suit different needs. The focal point of the booth was a large content stage, surrounded by comfy beanbag seating. The exhibit also included private meeting rooms on the second level, lounge area, live streaming pods, Oculus VR demo rooms and fun, interactive photo opps.
TTG also designed a multi-faceted custom exhibit for the Oculus 50'x80' booth. Like the Facebook Gaming exhibit, the Oculus booth featured a large double deck structure and distinct spaces throughout. Since E3 is all about hands-on experiences, the Oculus exhibit was ripe with product demos available in 14 separate virtual reality rooms. Conference and technology rooms were also built into the space.
It's also the place where you'll find a large contingency of representatives from The Trade Group working tirelessly to support a wide variety of client activations during the event. Check out the video below for a few highlights of TTG's projects at E3, then read on for additional details.
Turtle Beach
Turtle Beach, a gaming accessory manufacturer, is another repeat collaborator of TTGs. For E3, Turtle Beach tasked TTG with supporting its exhibit and several private meeting rooms for the event.
The company showcased its popular entry-level gaming headset, the Recon Spark, as well as the Kain series of PC gaming mice, a new product from its combined portfolio with the recently acquired ROCCAT.
Funcom, Nexon and Private Division
From trade show exhibits to private meeting rooms, TTG supported several other gaming client activations at E3. Like traditional exhibits, meeting spaces are designed both to reflect the clients' brands and meet functional needs, including product demos. Highlights include:
Funcom, a Norwegian video game developer, engaged TTG to design a meeting room space for unreleased game demos on PC and console.
Nexon, a Korean video game developer tapped TTG to create a private meeting room with an enclosed theatre, unreleased game play, game demo stations and lounge.
Private Division, an American video game publisher, collaborated with TTG on its exhibit and meeting rooms for the event.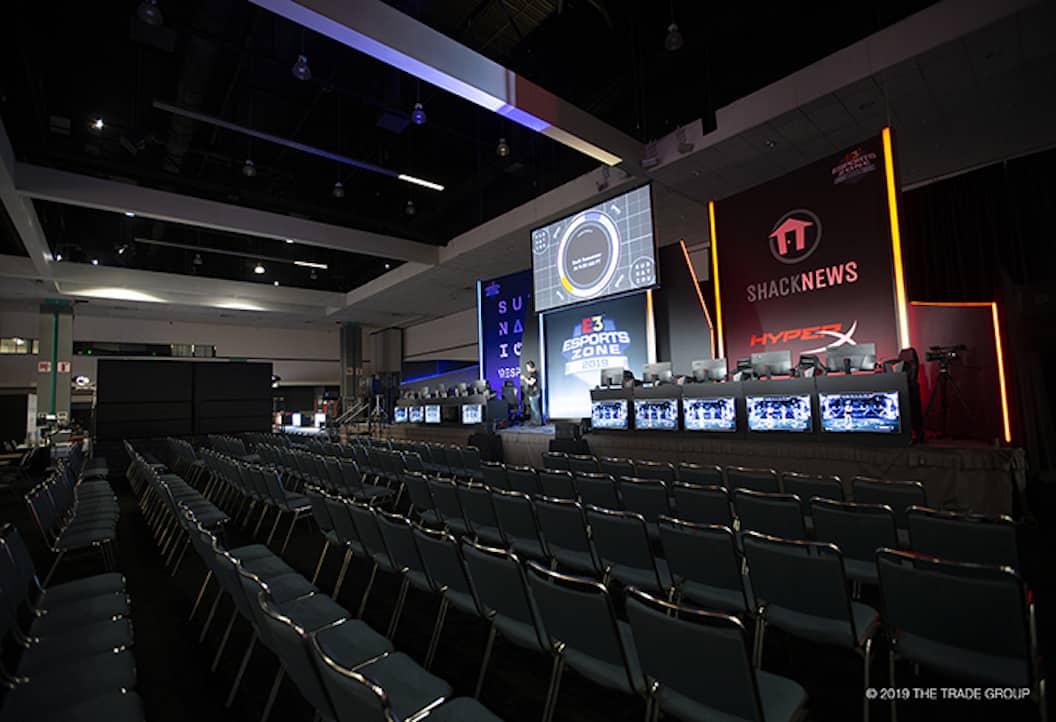 Need help designing an exhibit or branded space for an upcoming gaming expo or other live event?
The experienced live event specialists at The Trade Group would love to hear more about your project. To speak with one of our friendly sales consultants, give us a call at 800-343-2005 today.