While TTG supported both companies at NAA in years past, Yardi and RentPath both decided to change things up for Apartmentalize in 2019. Even though the two companies had different objectives for the show, branding, brand messaging and attendee experience were critical for both RentPath and Yardi's activations this year.
Yardi features two brands and a deluxe meeting center for NAA 2019
Yardi, a global technology company for the real estate industry, has relied on TTG for its trade show needs since 2010. Over the years, Yardi's trade show presence has evolved—from a single 10'x20' exhibit they brought over from a previous vendor to a 40'x50' modular METALLI® exhibit kit purchased from TTG a few years back to two custom-looking exhibits used for the Yardi and Yardi Breeze brands in 2018 to the three modern exhibits featured at the 2019 Apartmentalize Expo:
50'x50' Main Yardi Booth
20'x20' Yardi Breeze Booth
20'x40' Yardi Meeting Center
According to The Trade Group's Kristina Dearman, project manager for Yardi's trade show activations, "Yardi is always interested in incorporating the latest and greatest design and technology elements into their booths, which is evident if you look at how their trade show presence has evolved over the years.
Their exhibits have changed from more of a 'kit' look to the custom exhibit look they have today. Bringing in new, unique configurations and modern design elements, like light boxes, to complement Yardi's branding resulted in the fresh and current vibe you see in their activations for NAA Apartmentalize."
Yardi's growth necessitated an expanded footprint at Apartmentalize 2019
Yardi's updated and expanded trade show presence also needed to accommodate the company's growth, both from a product perspective and a "space to conduct more business" perspective. That's why the company expanded from one to two exhibits last year, one reflecting the core Yardi brand and the other to support its new Yardi Breeze solution for smaller apartment management companies.
Fast-forward to 2019, Yardi also wanted to address its need for expanded meeting space. The solution was to eliminate the meeting room from the main Yardi exhibit and create a separate meeting center that included multiple private and semi-private meeting spaces.
TTG's design, fabrication and tech teams worked closely together to amp up the modern vibe for all three booths, while meeting functional needs in a high-tech fashion. Some of our favorite highlights from Yardi's 2019 Apartmentalize exhibits include:
High-impact, backlit, branded hanging signs visible for "miles."
Backlit SEG fabric graphics throughout.
Edgelit etched Plexiglas logo signage in the Breeze booth.
Dimensional halo-lit logo signage in main Yardi booth and meeting center.
Functional "ceiling" fans hung above demo stations in Breeze booth.
Custom wood- and concrete-look laminate on beams and towers in main Yardi booth.
Multiple, strategically placed monitors for product demos or looping video throughout.
Amped up WiFi with Apple AirPlay, which allowed for wireless connectivity at all three booths.
Variety of flooring, including custom inlays, flex flooring and carpeting that reinforced the modern, natural vibe.
Yardi is always interested in incorporating the latest and greatest design and technology elements into their booths, which is evident if you look at how their trade show presence has evolved over the years.
Consistent branding and a varying target audience inform the design from show to show
When creating the three different spaces—main Yardi booth, Breeze booth, meeting center—subtle differences in product branding (i.e., green is predominate in the Breeze booth, Yardi blue in the main booth) come through, while overarching brand elements tie the three different spaces together.
One reason TTG has been able to stay on target with Yardi's branding is that two key people from TTG have been working on Yardi's projects since the beginning. Dearman first started supporting the client when she worked in TTG's Exhibit Management Program (EMP), ultimately assuming the project manager role a few years back. The lead designer on the account, Robert Wood, has been on board since Yardi came to TTG in 2010.
Yardi also pays close attention to who their main target audience will be at different shows, adjusting design elements accordingly. As Dearman explains, "The main target audience for NAA is more female, so we took that into account when designing the spaces for this show. That's why we included more feminine features like natural wood elements, grass design accents and white throughout."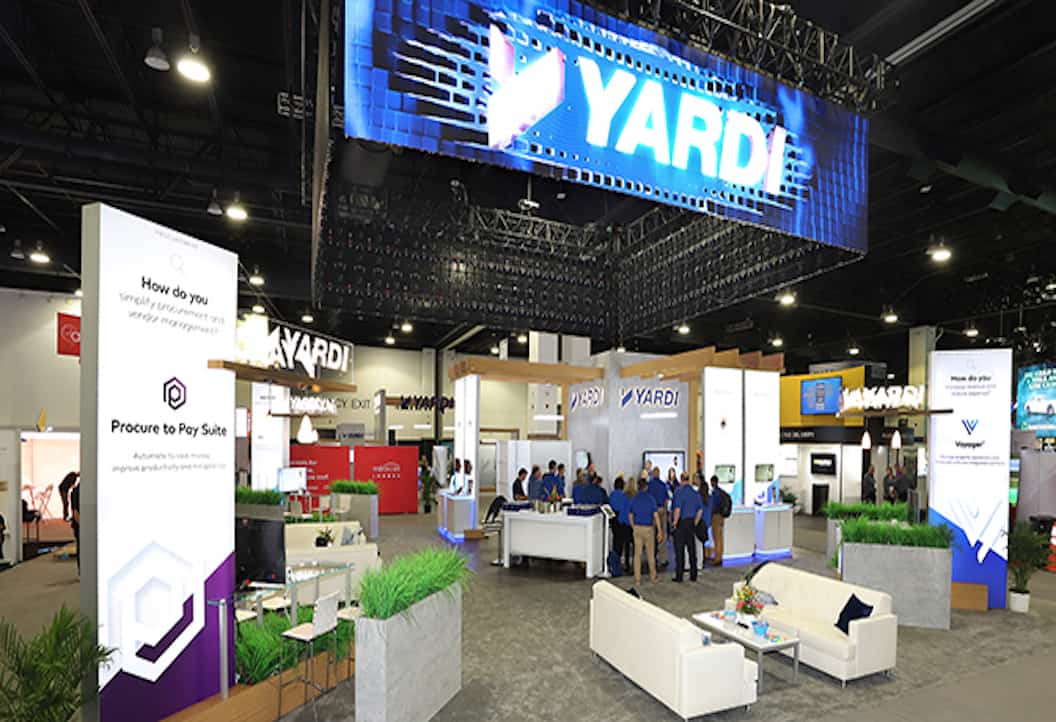 The fact that TTG maintains a vast inventory of trade show exhibit components, furniture and accessories for rent makes it easy to tweak the vibe of the space—from more feminine to masculine—depending on the show.
RentPath's award winning NAA booth features a temporary meeting space designed by TTG and sister company Event Architecture
This was the second year that RentPath—a digital marketing solutions provider in the real estate space—engaged TTG's sister company Event Architecture (EA) to help create a meeting space for its activation at NAA Apartmentalize. EA specializes in modern, portable structures for live events and experiential activations and shares a design team with TTG.
After going with two side-by-side structures in 2018, RentPath chose to have EA customize one of its single, portable, enclosed 30'x16' structures instead. Creative collaboration between RentPath and the EA-TTG design team was especially critical for this activation because the meeting space design needed to complement RentPath's circus themed experience, which was taking place in the company's island display located directly across the aisle.
RentPath's HQ in Atlanta helps inspire the design
The design for the meeting space was inspired by RentPath's main office in Atlanta, as well as previous exhibits. The EA-TTG design team pulled cues from those environments, which prompted them to include pendant lighting, kiosk workstations, lattice partitions and leather seating surfaces throughout the meeting room. TTG custom fabricated the partition, which helped break up the interior into separate, distinct spaces.
To help tie the main island booth and meeting space together, a tiered overhead mobile was installed that extended from the center of the meeting room to the center of the 50'x50′ exhibit space. The mobile consisted of hanging discs of different sizes that mimicked the white surface areas in the meeting room, creating a cloud-like 'thought bubble' motif. The mobile also accented circular medallions included in graphics on the exterior and interior of the meeting room structure.
This fun and unexpected feature helped connect the whimsical carnival experience with the calm business-like environment across the aisle, where guests could undergo a more in-depth exploration of RentPath's solutions.
RentPath's meeting space served as the conclusion to the circus themed story, which began at the award-winning island exhibit across the aisle
RentPath won Best in Show at NAA Apartmentalize for its circus-themed island booth, and the company's Director of Creative Services & Events Frank Jones believes the meeting space played an important role in the successful multi-faceted activation.
Says Jones, "Technically, the 50'x50′ RentPath booth was awarded 'Best Island Booth'. However, the meeting spaced designed by Event Architecture and The Trade Group played an integral part of our recognition at NAA Apartmentalize, as it completed the story and also added the perfect garnish to a memorable exhibit experience."
Need help with exhibit design or an upcoming experiential activation?
We'd love to hear more! Give us a call at 800-343-2005 to speak with one of our experienced trade show and live event specialists today.