In 2019, The Trade Group was honored to support both fan-focused and B-to-B with jaw-dropping activations for several big names at Gamescom. Deliverables included elaborate custom exhibits and never-before-seen interactive experiences—can we say glass elevator, giant slide, live entertainment, life-size, hand-crafted 3-D character statues, esports stages, and MORE? Yes, we can!
When international gaming clients need reliability, quality and value, TTG delivers
This is the tenth year The Trade Group has supported clients at Gamescom. During that time, TTG has earned a reputation not only as a trusted collaborator for high-end exhibit designs and elaborate interactive experiences but also as one of the most cost-effective gaming event solutions providers worldwide.
WARGAMING B2C BOOTH
Live entertainment, game play and photo opps at every turn
This is the sixth consecutive year Wargaming has relied on TTG to support its multi-faceted Gamescom activations. Along with featuring the European game developer's legendary games World of Tanks and World of Warships, creating buzz about the launch of two new online games, Caliber and Pagan, was a key focus for the activation.
The Wargaming activation ended up being a real crowd pleaser because it combined an incredible new design with fan favorites like the boardable warship and cinematic tank from years past. According to TTG VP of Business Development Neeshu Hajra, a collaborative effort between Wargaming and TTG was key to the activation's success.
As he explains, "We worked hand in hand with the Wargaming design department to create the concept for the incredible new design. At 12,000 sq. meters, this was one of the largest booths we've ever done for Wargaming. The exhibit included entirely new architecture and a design feature called redline, which was proliferated by brand graphics and artful red lines that tied into the Wargaming.net brand identity—the overarching parent brand—without being too in your face about it. The detail level was just amazing for photo opps."
Other standout design features in the booth included a stunning USK section with beautiful frosted glass in the space dedicated to the new Caliber online game. TTG also handcrafted a full-size 3-D model of a character from the new Pagan online game.
It wouldn't be Wargaming at gamescom without live entertainment, and the 2019 activation didn't disappoint. TTG facilitated the music, choreography, costumes, interactive videos, and more for two dance shows, performance groups, and a concert featuring Sabaton on the Wargaming stage.
The concert went WAY beyond music and checked all the boxes in terms of a memorable, immersive, and interactive experience. "We were able to create a really compelling experience at Gamescom that will not soon be forgotten. We brought in giant beach balls, a T-shirt cannon, and a plushie torpedo launcher. These were all fun ways to engage a crowd of about 2,000 people and drive brand awareness at the same time," explains Hajra.
WARGAMING B2B MEETING SPACE
Branded, functional meeting rooms and lounge
TTG was also responsible for creating a functional space for Wargaming to hold business meetings, which are critical to the success of the event for game developers. Supporting Wargaming's B-to-B efforts at Gamescom is something TTG has done every year.
According to Hajra, "The B-to-B booth was in a quiet hall that was only open to industry people with proper credentials. The space included a lounge in the center and meeting rooms around the perimeter. We were able to create a really nice space, where visitors could surround themselves with the brand and conduct business in a calm and positive atmosphere."
That reputation and TTG's dedication to client satisfaction are two of the big reasons long-term clients like Wargaming and newer clients like Oasis Games and Google (parent company of Stadia and YouTube Gaming) enjoy working with TTG. Let's take a look at some key highlights from these client activations at Gamescom 2019.
GOOGLE STADIA AND YOUTUBE GAMING ADJACENT ACTIVATIONS
For the two Google brands, TTG provided support every step of the way. As Hajra explains, "We assisted with literally every part of this scope of work, providing a truly soup to nuts, turnkey production. This included coming up with the engaging messaging, defining which sponsorships were available, and figuring out the catering. Working hand-in-hand with the client's brand team, TTG also handled all of the design and artwork for banners and the booth. We even coordinated the brand ambassadors and their training for the event.
"We're very grateful for this opportunity and also for having the resources—internal personnel and international partners—to pull off what we did. It was quite an experience and something we'll absolutely never forget."
GOOGLE STADIA
The Google Stadia activation was especially exciting because the new gaming platform was being launched at the event. Stadia is a revolutionary cloud-based gaming platform that allows gamers to play where they want, how they want, and when they want.
That overarching message played a key role in the design concept for the booth, and TTG pulled out all the stops to get that message across. The fun B-to-C experience also emulated the fact that Stadia allows players to instantly jump into games because there's no downloading or waiting.
"The activation included a glass elevator that took fans up to a third-floor deck, aptly named as the 'Top of Gamecom.' Fans could pose for a picture from this very unique vantage point, three stories up in the air. The fan experience was 'elevated' thanks to the elevator. From there, guests could pick a game on a touchscreen, then jump down a giant slide and land into a bullet-time, green screen photo opp that placed them in the game they selected. It was very metaphorical and brand-centric, while at the same time, it was remarkably fun," Hajra says.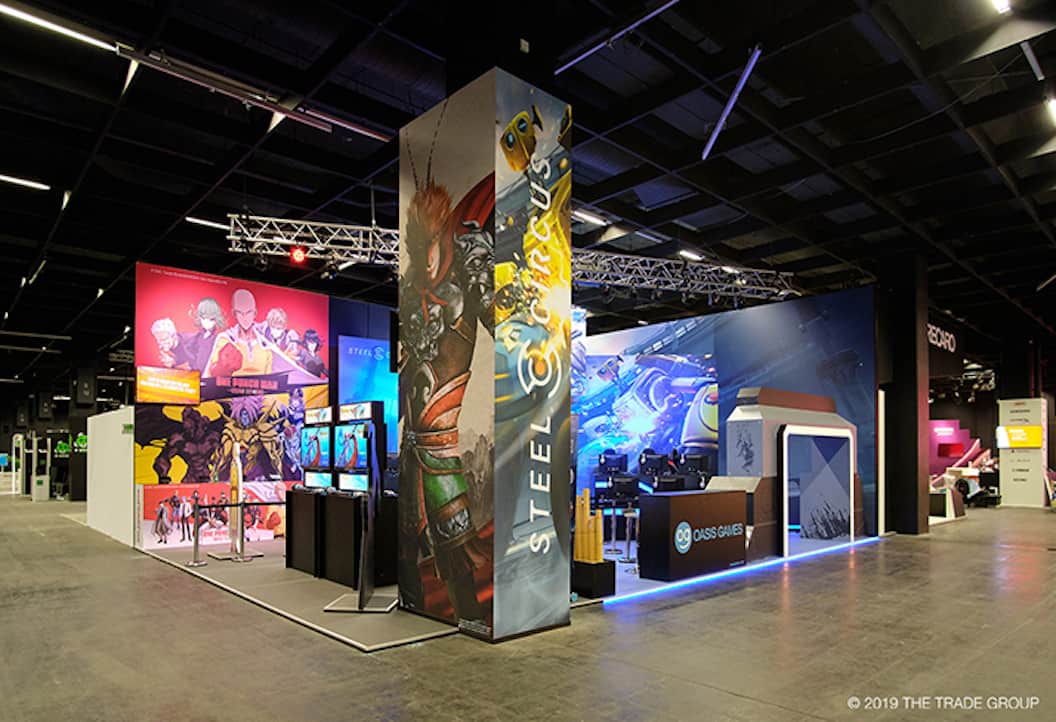 TTG was also responsible for ensuring the 40 Stadia gaming stations in the booth ran like clockwork. As Hajra explains, "When you think about the internet bandwidth we were pumping through that stand, it was quite substantial. TTG worked closely with Stadia's tech team to make sure that everything operated without a hitch—and I'm proud to say it did. That's important because, with a product like this, it's essential that it works."
Stadia also needed meeting space, so TTG included four meeting rooms in the exhibit. Says Hajra, "The meeting rooms had 4K monitors and were really a delightful space for the Stadia team to meet with agencies and the press during gamescom."
GOOGLE YOUTUBE GAMING
Lounges, gaming stations and delicious eats—a creator's paradise
TTG was also delighted to support Google's YouTube Gaming activation at gamescom. The space adjacent to Stadia's included an oasis on the show floor and a giant lounge on the upper level. Both lounge areas provided awesome catering for guests throughout the event, including everything from lasagna to a burger day.
"It was really a treat for all of the influencers, creators, and the YouTube gaming community, in general, to have a nice respite on the show floor," Hajra says. The space also had two streaming pods and several Stadia gaming stations for guests to enjoy.
TTG also produced a workshop space for YouTube Gaming. According to Hajra, "The Workshop was an independent event that was onsite but in a spare meeting room during gamescom. TTG handled the entire project, including the design of the entire space, setting up the projector, arranging for all of the catering, bringing in bean bags, etc. We really made this a nice space for YouTube creators to learn more about YouTube Gaming and how they can engage viewers on the platform and really grow their community."
OASIS GAMES
Custom built arch structure, large, branded graphics, 3v3 esports stage
The Oasis Games activation was a joint effort between TTG and SUPERCRITICAL, an experiential marketing agency. According to TTG Sales Consultant Kevin Colis, "We enjoy collaborating with other creative firms on a variety of projects. Since we were both bidding on the Oasis Games project, TTG and SUPERCRITICAL decided to join forces, and it turned out to be a win-win all around."
For the Gamescom Oasis Games activation, TTG handled the structural layout, functional flow, technology aspects, installation and dismantling, as well as onsite management and supervision. SUPERCRITICAL handled the final graphic design, IP approval, cosplay, client relations, concierge services, and other show services.
The 8.5m x 12m custom booth spotlighted three Oasis Games titles—Steel Circus, One-Punch Man, and Monkey King—and featured large, branded graphics that brought the games and their characters to life in the space. LED wash and accent lighting really made the scenic elements pop.
Two 3v3 esports stages were also configured into the space, so two games could be played simultaneously. The space also included iPad gaming stations featuring the Monkey King game.
TTG designed several other custom features for the activation. According to Colis, "One of the most popular features in the booth was a custom 3-D arch we built that is based on a goal from the Steel Circus game. We also installed custom flooring that was used to tie the three different games together. Custom bamboo planter boxes were used as a divider wall to separate the Steel Circus from the Monkey King areas."
Another hot spot in the booth was the live streaming set-up. "TTG included a streaming station in the space so influencers could live stream from the event. This aspect of the activation was a huge success, with 100 to 200 people filling the booth and surrounding area when the influencers were playing. We also provided scenic photo opps consisting of character cut-outs from Monkey King and One-Punch Man to help with brand amplification," Colis says.
TTG also integrated a top-notch sound system into the booth that highlighted gameplay effects and the calls of the "play-by-play" announcer hired for the live esports competitions. As an added touch, a cosplayer dressed up as Lochlan, a popular character from the Steel Circus game, took photos with fans at the booth.
According to Colis, the client was very happy with the quality of the booth and the level of service provided. This successful activation is also a great testament to the win-win collaboration between TTG and SUPERCRITICAL.
Says Colis, "While TTG can handle the entire scope of activations like these, we very much enjoy customizing our services to collaborate with creative agencies, working as transparently in the background as necessary. TTG is really flexible in that regard. We look forward to these collaborations and anticipate many more in the future."
Need an experienced partner to support an upcoming activation overseas?
The Trade Group has been successfully executing exhibits and experiences at international gaming and other live events for years. As Hajra explains, "Over the years we've developed trusted relationships with vendor partners in Europe, Asia, and beyond. The U.S.-based team that travels with us also brings decades of experience in international exhibiting to the table. If you have any questions about exhibiting overseas, we'd love to speak with you."
To learn more about The Trade Group's international services and solutions for live events, call us at 800-343-2005 or contact us here.