If you closed your eyes and someone led you into an Apple Store, what would be your first thought?
"Where am I?" or "Why did this person bring me to an Apple Store?"
Ninety-nine times out of 100, it will be the latter. Now, what if you'd never been to an Apple store before? The odds remain about the same. The reason is that walking into an Apple Store feels like you're walking into an iPhone. It's not just the Apple logos. It's also the counters, walls, floors: everything feels like an Apple product.
[adgru adid="4635″]
But Apple is not the only successful example of a branded environment. Take Starbucks. It's not simply a coffee shop– it's an aesthetic. In other words, you know when your in a Starbucks and not some other coffee house because you recognize the green, white, and brown colored interior and the student or worker with their laptop open penning emails and papers. You can go on with similar ease to describe the brand environments of other business like Target, McDonald's, or a Disney Store.
These companies have established branding and cemented how to convey that brand in an environment. However, you don't have to be a Fortune 500 company to master branding. Any business of any size can create an impactful branded environment.
---
What is a branded environment?
A branded environment is your brand represented in a physical space intended to engage and entertain an audience. You see branded environments everywhere: stadiums, malls, airports, hotels, etc.
The goal for a branded environment is to transform an area into a brand. Achieving that goal requires using architecture, lighting, fixtures, furniture, finishing materials, etc., that mimic the "feel" of the brand. It's not just logo placement and color scheme. From the choice of countertops to the lighting scheme, every decision creates or reinforces a brand's personality and character in the environment. Commercial graphics, media walls, and branded signage help complete the transformation.
A branded environment focuses on audience engagement, ranging from eye-catching and visually arresting to hands-on experiential events.
---
What are the benefits of a branded environment?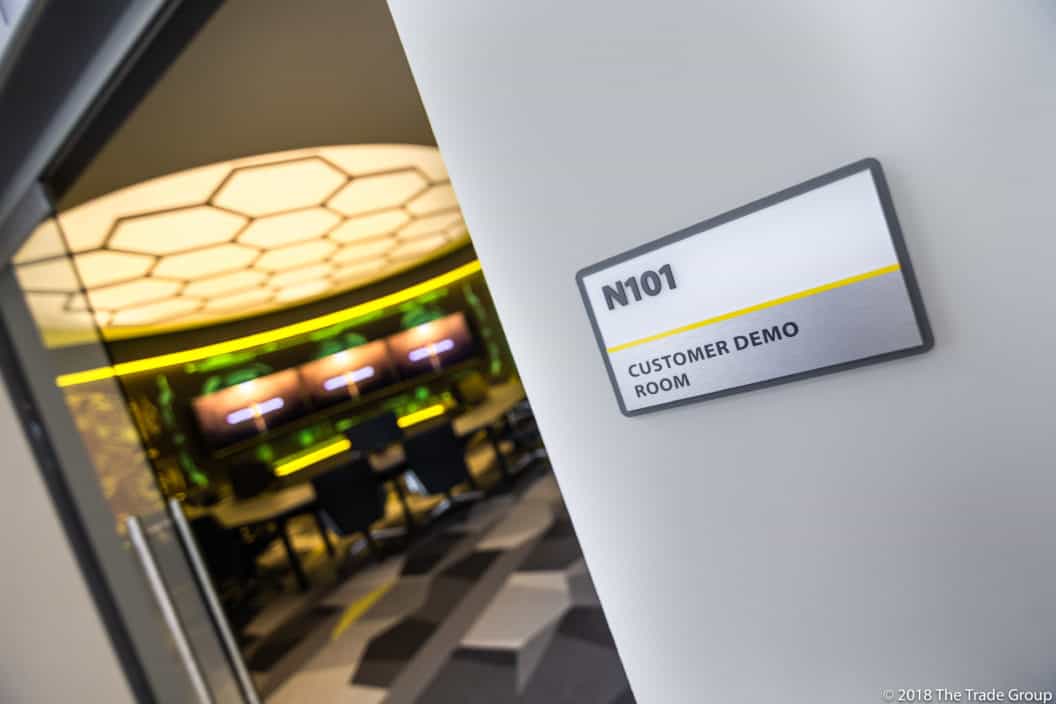 Strengthens brand awareness: A branded environment creates an experience that immerses visitors into your world.
Separates you from your competition: When someone engages with your company in a branded environment, they meet on your home turf. That's an advantage your competitors don't have.
Tells your company's story: Stories have power, and telling your story physically and visually is a formidable marketing tactic that creates an emotional connection with your audience.
Displays your core specialties and strengths: Not only do branded environments strengthen your brand awareness, but they also reinforce what makes your company stand out in your industry.
Highlights your latest innovations: A branded environment shines a spotlight on new products and services you wish to promote, sometimes literally.
---
What are the top branded environments?
HEADQUARTERS
You've branded your website, brochures, stationery, etc. However, you may be overlooking one of your most significant branding opportunities: your walls.
As a customer, which would you prefer to visit: an office decorated with pictures you'd find hanging on a motel wall or a vibrant office alive with company colors and images?
It's an easy answer. When potential clients enter a branded office lobby, they are immediately, often subconsciously, engaging with your brand. As they continue through your branded HQ, filled with areas that seamlessly transition from one room to the next, they become immersed in your story. There are no mixed messages, no confusing statements. Your message is clear, direct, and engaging.
[adgru adid="4635″]
It's not just visitors who benefit. A branded office environment reinforces your corporate culture to your employees. It helps reiterate your history, messaging, and core values and makes them part of the team. It can even improve productivity by encouraging employees to gather and collaborate in an exciting, branded space.
A branded environment also makes your company attractive to new hires. Like a customer's journey, an exciting, branded office environment entices potential employees while a drab one is off-putting. It would be a shame to lose top talent due to some colorless, featureless walls.
TRADE SHOWS & CONFERENCES
At trade shows and conferences, it is critical to announce your presence with a branded exhibit environment. A trade show floor is a hectic environment. You will immediately be lost in the crowd if you enter the fray with nothing but a generic, lifeless display.
At trade shows, branded signage is your best friend. It's essentially part of your crew promoting the benefits of your products and services. You want signage that clearly distinguishes your company and products from the competition lurking nearby.
However, signage must be visible and legible to be effective. The right kind of lighting will lead attendees' eyes directly to your signage and products. Lighting also helps set your exhibit's mood. Want to create a gallery atmosphere? Use spotlights to illuminate specific products. Would you like a warm, homey, welcoming vibe? Position LED rope lights underneath displays and shelving.
You can also add branding to a variety of attention-grabbing tech. LED product displays, kiosks, reception counters, literature racks, flooring, and photo booths; you can add branding elements to these items and more.
POP-UP ACTIVATION
A branded environment pop-up activation takes your brand on the road. Pop-ups work by attracting attention and generating buzz about your brand and its products and services. They also provide companies with opportunities that otherwise may be out of reach. For example, with a pop-up, a company can cost-effectively experiment in areas of low brand penetration. However, it is equally easy to set up in areas of heavy brand saturation as a thank you to loyal customers.
Pop-up shops are a perfect, low-risk opportunity to experiment with your branded environment. Is there a product you like, but you aren't sure if it's right for your shop? Test drive it in a pop-up shop. Are you sure that a product will be a hit? Give it some pre-launch buzz with a pop-up. A branded environment pop-up is the perfect opportunity to gauge consumer reactions to new launches and gather in-person feedback to improve your offerings.
---
Conclusion
To see an example of how you might incorporate a branded environment at your HQ or elsewhere, watch out case study with WatchGuard.
Are you interested in creating branded environments in an existing space or creating a new trade show exhibit or pop-up? The experts at The Trade Group are here to help. Give us a call at 800-343-2005 or contact us here to learn more about the exhibit design, interactive experiences, and services available at The Trade Group.