DALLAS—June 11, 2020—In light of COVID-19, The Trade Group—an award-winning, event marketing and experiential design firm—recently pivoted from its core business of designing and building trade show exhibits to creating products people and organizations need in a post-pandemic world. Along with launching COVID-19 custom design and fabrication solutions for corporate interiors, restaurants, salons and other retail businesses, the company began manufacturing high-quality PPE face shields for front line workers in April.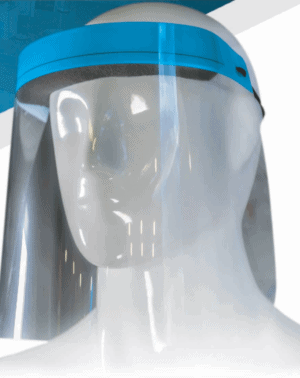 The Trade Group's new low-cost, high-quality PPE face shields were designed to protect the users entire face from spray, splatter and droplets. The shields feature a thick comfort band that absorbs sweat and provides ample space for eyeglasses or safety goggles beneath the shield. In addition, the shields can be easily cleaned with disinfectant and reused.
The decision to manufacture face shields at The Trade Group's Carrolton, Texas headquarters was prompted by a huge demand for PPEs, which have been desperately needed by the nation's healthcare workers since the pandemic began.
According to Robin Barhydt, Senior Design Consultant at The Trade Group, the company was uniquely positioned to pivot its manufacturing operations from trade show exhibits to face shields. "When COVID-19 became a reality in the U.S., the live event industry came to a halt. In that sink or swim environment, our creative and resourceful team decided to swim. Not only did we have the capacity to manufacture the shields, our team was also able to quickly acquire the resources needed to make PPEs, so we could get them out in the field right away."
The Trade Group also decided to donate thousands of face shields to individuals and organizations that needed them right away. "We really wanted to do our part to help support and protect healthcare workers who were on the front lines. Time was of the essence, so we donated facial shields to those organizations that were in dire need," Barhydt says.
Several healthcare organizations and workers received the face shields, including Brandi Carney BSN, RN Operating Room Manager, Baylor, Scott & White Surgicare Denton. Carney helped out at a Brooklyn, New York hospital in the midst of the COVID-19 crisis on the east coast.
According to Carney, "We were lucky to have the shields that were provided to us by The Trade Group. Most workers at the hospital that I was assigned to in Brooklyn only had one at the most. The risk of reusing them is dangerous if not sanitized correctly. We didn't have to worry as were able to use a new protective face shield every shift thanks to The Trade Group."
To learn more about The Trade Group's affordable PPE face shields or corporate interior design and fabrication services for modifying workplaces to align with COVID-19 safety directives, please call 800-343-2005 or visit the COVID-19 resources page on The Trade Group's website.
ABOUT THE TRADE GROUP:
The Trade Group is an award-winning, full-service event marketing and creative design firm, specializing in trade shows, esports events and activations, corporate events, brand activations, retail merchandising, commercial graphics and experiential solutions. Since 1986, the company's team of live event, design and engineering experts has helped thousands of clients amplify their brands and successfully navigate a wide range of events and experiences. Clients rely on The Trade Group for: event ideation, creation and production; esports expertise; exhibit design and fabrication; graphic design and production; strategic marketing solutions; technology integration and more.
Press Contact:
Becca Richardson
Marketing Manager
The Trade Group
brichardson@tradegroup.com