DALLAS—April XX, 2020—The Trade Group, an award-winning, event marketing and experiential design firm, is pleased to announce that Exhibitor Media Group, publisher of EXHIBITOR Magazine, has included the company on its third annual Find It – Top 40 list, which honors the top exhibit houses in the United States and Canada.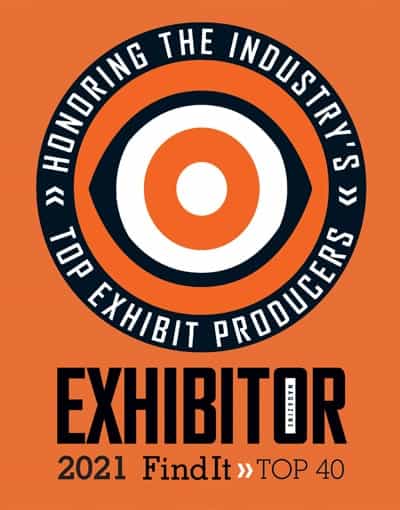 Exhibitor Media Group President and COO Randy Acker describes the Find It – Top 40 as "the most exclusive list of U.S. and Canadian exhibit providers in the industry and serves as the Good Housekeeping Seal of Approval when it comes to the companies behind many of the most successful trade show stands in the world."
Find It – Top 40 nominees undergo a rigorous evaluation process scrutinized by an esteemed panel of corporate exhibit managers. Selection of the Find It – Top 40 honorees is based on multiple criteria in five categories, including:
Company and Capabilities
Honors and Awards
Thought Leadership and Industry Participation
Service and Reliability
Creativity and Key Differentiators
More than 100 exhibit houses applied for the Top 40 recognition. The panel considered over 50 individual criteria during the selection process, which EXHIBITOR Magazine says was designed to "reflect how EXHIBITOR readers and Editorial Advisory Board members value them when vetting and selecting potential partners." The panel also surveyed the applicants' current clients and reviewed past projects, selling points and innovations.
According to Chris Stone, President and CEO of The Trade Group, "We are delighted to be selected by EXHIBITOR as a Find It – Top 40 honoree once again. Inclusion as a Top 40 exhibit producer in the Find It Marketplace allows us to showcase our work in a highly respected forum. It also connects us with event marketers and exhibition managers who may be unfamiliar with our exhibit design, fabrication and other event marketing services and solutions."
To learn more about The Trade Group's exhibit design, event marketing and experiential design solutions for trade shows and live events, please call 214-343-2000 or visit www.tradegroup.com.
ABOUT THE TRADE GROUP
The Trade Group is an award-winning, full-service event marketing and creative design firm, specializing in trade shows, esports events and activations, corporate events, brand activations, retail merchandising, commercial graphics and experiential solutions. Since 1986, the company's team of live event, design and engineering experts has helped thousands of clients amplify their brands and successfully navigate a wide range of events and experiences. Clients rely on The Trade Group for: event ideation, creation and production; esports expertise; exhibit design and fabrication; graphic design and production; strategic marketing solutions; technology integration and more.
Press Contact:
Becca Richardson
Marketing Manager
The Trade Group
214-343-2000
brichardson@tradegroup.com