A good experiential element is like a great teacher
Have you ever had a teacher that made learning difficult concepts easy and fun? Well, that's what experiential elements try to do for your prospects. They teach them about your brand in a fun and engaging way.
If you live in a niche market, explaining to people what exactly it is that you do can be a challenge. That's one reason why experiential marketing has been on the rise.
Because unlike print, radio and television mediums, experiential marketing engages multiple senses and creates a connection between the consumer and the brand, which ultimately leads to dramatically higher retention rates.
Consider Finance Online reports that 65% of consumers say that product demos and live events helped them understand the product better than any other advertising method.
---
What can experiential marketing do?
Experiential marketing can help you reach a large audience and strengthen customer loyalty. In other words, you keep old customers for longer while adding new ones.
The sky is the limit with experiential marketing. Large campaigns, often called brand activations, can occupy entire city blocks. Take Lipton Iced Tea for example. To raise brand awareness, they erected a giant yellow water slide in the middle of London.
Onlookers who stopped by to see the commotion were given free samples of Lipton products and urged to #beadaybreaker. Crazy, right? But it worked!
---
How to use experiential marketing for trade shows
For trade shows, you don't have to build a giant slide that uses tea instead of water. When space is tight, technology is often the perfect solution for engaging prospects in a memorable and exciting way.
In fact, most of the elements listed below are either unique demonstration platforms or some interesting use of technology.
Whether your goal is to educate, bring traffic to your booth or strengthen customer loyalty, these elements can help tremendously.
---
8 experiential elements for trade shows
Photo booths
Photo booths, like the one above is a great way for clients and customers to interact with your brand. This kind of booth is less about educating customers than connecting with them on an emotional level by making them feel a part of a community.
Furthermore, phot0 booths like the Ritratto, are a great way to capture leads, boost social media engagement and connect with your customers.
Product demos
One of the most important reasons people attend trade shows is to discover new products. Sure, they can research them online, but being able to touch, feel and see the products in person is 10X better. That's why having displays of models or the actual products to try is best.
Virtual reality
Virtual reality is really coming into its own at trade shows, especially at tech shows that want to demonstrate their product in real time.
Augmented reality
Virtual reality's cousin, augmented reality is also becoming an important way to boost engagement and traffic to your booth. This element is often used in conjunction with "try before you buy" campaigns.
For example, Warby Parker uses an app that projects a pair of glasses on the users' face so they get a visual of what it looks like on them.
Special demonstration pods
These pods allow your customers to demo your product in a closed off environment. The key result is making your customer feel special with an exclusive experience. You can view more examples at Event Architecture's website.
Multi-touch screens
Multi-touch screens offer a dynamic, organic interface that allows for multiple people to physically interact with the display. Remember when touch screens first came out? Now they're everywhere and people still enjoy using them.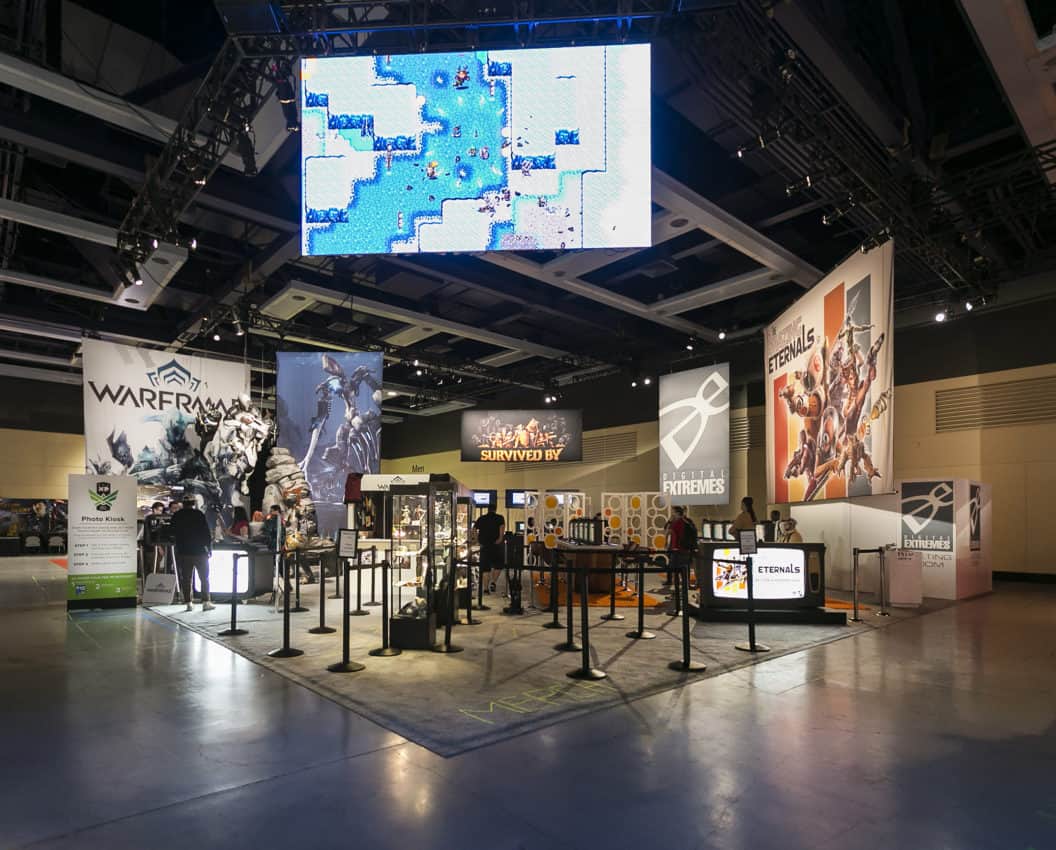 Motion Graphics
Motion graphics allow you to expand on your message while increasing viewer retention of the information you present. These are easily updated and customized for each event and are fantastic for appealing to audiences with shorter attention spans.
LED Interactive showcase
These showcases are the ultimate and compelling combination of digital and physical elements. A product is placed in the case behind the display glass, which is a clear LED screen that plays either static or interactive content. These cases have proven to be more effective at presenting a product than brochures or other exhibit literature.
---
Looking to engage your target audience at your next show?
The Trade Group is an award-winning exhibit house that offers full-turnkey services for trades shows, including exhibit design and complete event management. Contact us or call at 972-734-8585 today to ensure a more profitable trade show!