Exhibiting at Black Hat USA is an AWESOME experience.
Since 1997, Black Hat has been one of cybersecurity's biggest and most significant events. The educational and networking opportunities are some of the most exciting and comprehensive out there. In fact, many companies attend the show—before ever exhibiting—just to participate in the sessions and networking events.
If you're thinking about exhibiting to raise brand awareness, generate leads, and make sales, use this Black Hat USA guide to booth rentals to find the best options.
About Black Hat USA
Black Hat USA 2023 is taking place August 5-10 at the Mandalay Bay Convention Center, Las Vegas, NV. Last year's Black Hat USA welcomed
21,000 unique attendees
17,400 in-person attendees
15,488 virtual users
There are plenty of attendees with buying authority who work for large corporations walking the show floor. Black Hat reports that 50% of cybersecurity professionals say they are experiencing some form of mental burnout. Their main concerns are critical infrastructure threats, vulnerability, and phishing.
However, according to Black Hat, one-fifth to one-third of attendees say they're just now hearing about security technologies like cloud workload protection platforms and secure access service edge. This means there's a massive opportunity to position yourself as an authority and grow your pipeline.
Black Hat USA 2023 booth rental guide
Exhibiting at Black Hat isn't without challenges. You'll be sharing the show floor with around 370 other exhibitors, all of which have stunning booths with interactive experiences, product demonstrations, and large format graphics.
To help you stand out, here are five things to consider when finding a booth rental that will give you a competitive advantage.
Renting vs Buying
Renting can be the best option for several reasons.
For one thing, the Center of Exhibition Industry Research reports that 89% of trade show attendees go to their industry events specifically to see "what's new" each year. By renting an exhibit for that big industry trade show, you can underscore the importance of "staying fresh" by making it look like your exhibit evolves over time.
Another reason for renting is potential cost savings. Buying a booth will be more expensive, and it ties an exhibitor down for a few years. However, for companies that attend multiple shows a year, buying may be the better cost savings option. To explore the pros and cons of renting and buying further, read this article.
Embrace modular exhibits
Modular exhibits use known framing techniques, making the construction fast and the design flexible. If you're going the rental route, it makes sense to go with a modular kit that can be designed to support your key message at the show. Renting overall is a faster process than designing and building a custom booth.
There are almost zero limitations when it comes to rental exhibit design. We want to avoid the "rental look" when it comes to renting, so feel free to let your imagination run when brainstorming what you want your rental booth to look like. Keep in mind also that rental exhibits can win Best of Show awards, like the Smartrise exhibit above.
Use accessories
Accessories can be used to manage the booth's flow. They also add flair and information. However, be careful not to overdo it. While the right amount of banner stands, lighting, counters, etc., provide visitors with an enlightening and engaging experience, too many add-ons can clutter your exhibit and overwhelm attendees.
Here are some lighting accessories to incorporate in your exhibit:
Spotlights, which illuminate specific messaging and give an area a gallery like atmosphere
LED rope lighting to create lighted "frames" around images and welcoming vibe when used under countertops
Shelf lights to highlight specific products and messaging
Backlighting, which is hidden inside the frame supporting the graphics in the exhibit
Lighting is one of the most essential elements in booth design. Unfortunately, it's also one of the first things that gets dropped on a tight budget.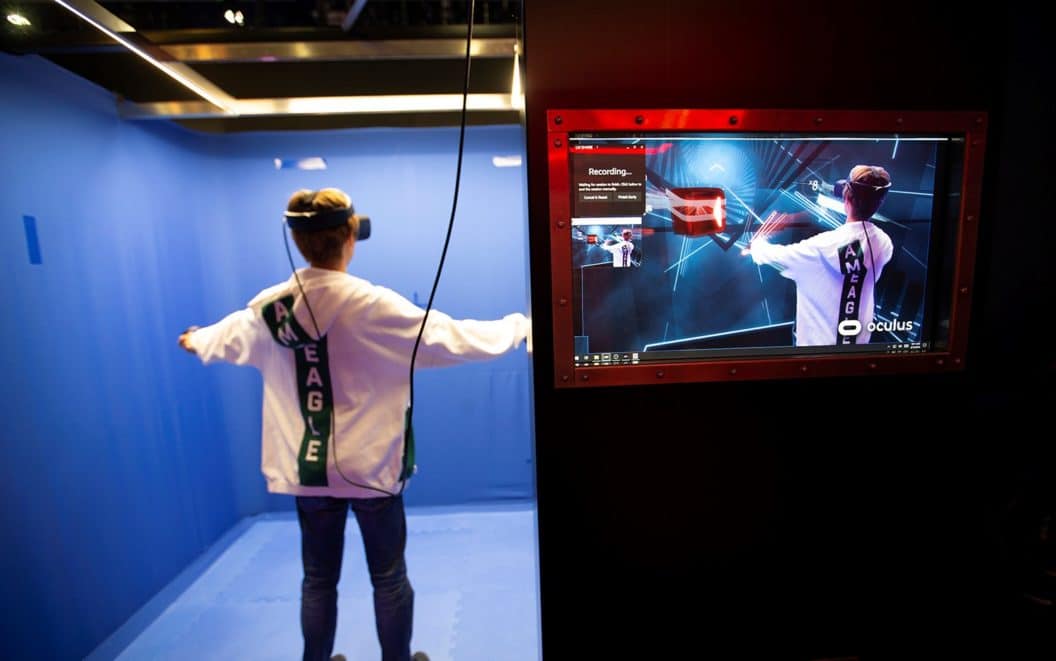 Add AV elements
Audio/Visual elements are very important for an event like Black Hat. The main thing to remember when incorporating AV elements—no matter which elements you use—is that it supports your message.
A virtual reality headset is cool, but how is it being used to attract your specific audience? Is it being used as an educational tool to show how your services/products work in real time? Are you using it as a promotional giveaway to get quality leads?
Here are three general principles to follow when using AV elements in your booth:
Make it "flashy" to the right audience
Avoid cliches like 16" by 9" inch monitors
Focus on the customer journey
By customer journey, ask how an AV element will bring initial awareness, nurture interest into desire, and aid in the purchasing process.
Don't forget about hanging signs!
In our 350,000 square foot facility, we can print and produce all the graphics you need. If you're in an island booth space, a hanging sign is simply a must. When you reserve a space in the exhibit hall, you're also purchasing the space above the exhibit. Making use of all the space you have is the best way to get the most out of your investment.
Conclusion
I hope you found this short Black Hat USA guide to booth rentals helpful. If you need help brainstorming ideas for your booth, feel free to contact me. I'll work with you to create an exhibit or an event that brings in leads and helps you achieve your business goals. Contact me here or give us a call at 972-734-8585.
Robin Barhydt is a Senior Account Executive for The Trade Group in Dallas, TX. With over 10 years of experience consulting cybersecurity companies attending trade shows, she brings an organized and dynamic perspective that ensures her clients get unprecedented returns from their shows.
Photo credit: Pexels