Automotive trade shows are the fuel that keeps the car industry running. These trade shows bring together manufacturers, automotive suppliers, car enthusiasts, and experts to highlight the latest innovations, technologies, and trends in the automotive world.
To stand out in a highly competitive environment, automotive companies need a custom trade show booth that not only garners attention but also leaves a lasting impression.
We'll explore the importance of custom trade show booths for automotive trade shows and offer much-needed insights into how they can help drive your success at these events.
First Impressions
In the fast-paced world of automotive trade shows, first impressions are the most critical way to attract potential clients. Your booth is often the first thing patrons see when entering the trade show floor. A well-designed custom trade show booth will garner that much-needed attention immediately, drawing them in and encouraging them to learn more about your product and service.
While you continue to impress trade showgoers with your booth, there are some essential aspects you should consider.
When designing your booth, it's imperative to remember that too many vertical structures shouldn't hinder the view of your car or product. This can box your vehicle in and hamper the views of any potential clients. This goes hand in hand with creating a memorable first impression.
Another huge factor in creating a memorable first impression is lighting. Simply let the lights do the magic. Lights, hands down, play a huge role in elevating your brand. Lighting your produce can be the make-it-or-break-it aspect of your exhibit. We highly suggest using warm-colored lights to perpetuate the colors of your product, and it'll naturally brighten up the place.
As stated before, the first impression of your product will put your brand on a pedestal, separating you from the pack.
Brand Representation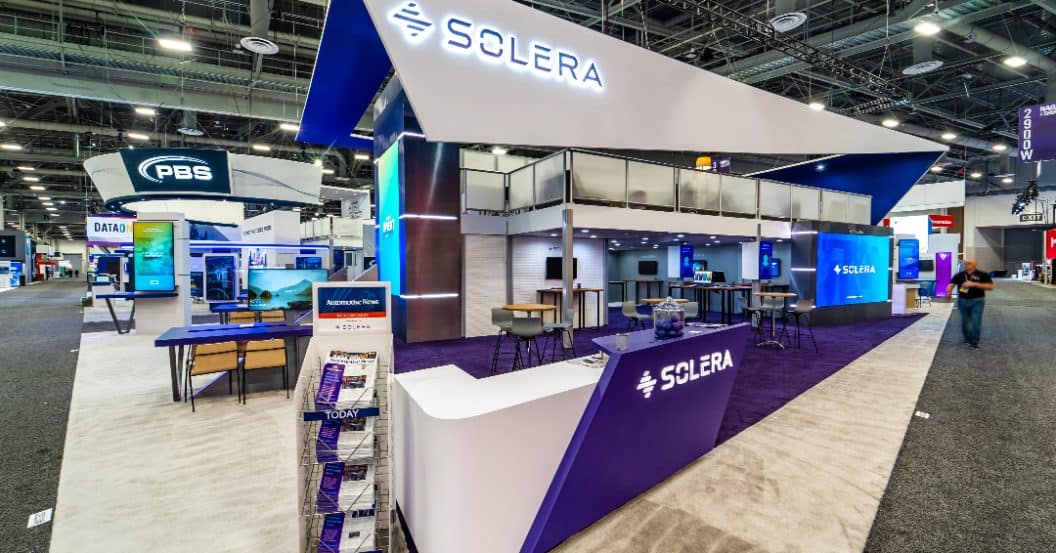 Your trade show booth serves as the physical representation of your brand. It's a critical opportunity to reinforce your brand's identity, values, and mission statement. Customizing your booth to align with your company's image can create a cohesive and memorable experience for your potential clients. Consistency helps create brand recognition and trust among potential customers.
If your automobile brand has a specific personality, your trade show booth must reflect the same so that people can instantly relate once they enter your area.
It's essential to showcase your product, but make sure that the brand that encompasses all your products is at the forefront of your audience. A perfect example of being aware of "Brand Representation" are brands like Harley Davidson and Ferrari, who ensure that their brand lovers instantly get the feel of the brand once they enter the trade show floor. These iconic brands have incredible products, but the brand drives an almost cult-like following.
Tailored Solutions
One size does not fit all when it comes to trade show booths. Custom booths can be tailored to your specific needs and objectives. Whether you want to showcase a new product, demonstrate your company's commitment to sustainability, or simply create an inviting space for networking, a custom booth can be designed to meet your unique goals.
Most designers will suggest using angular and aerodynamic shapes for podiums and showcases to represent a sense of speed and dynamism. We highly recommend hanging these angular shapes from the ceiling of your exhibition area. This will naturally create a significant visual effect and add life to the cars you showcase.
Maximizing Space
Trade show floor space can be expensive, so making the most of every square footage is essential. Custom trade show booths are designed with your booth's layout and the available space in mind. This optimization can help you efficiently use your allotted area, ensuring you have enough room for product displays, demonstrations, and attendee engagement.
Since your custom booth has no walls or minimum vertical structures, you should put maximum emphasis on floor designs. A helpful hint is to avoid bright colors for your floors, as they can easily blend with your product's colors. A minimalist approach to maximizing your space could be a helpful approach in general.
Innovation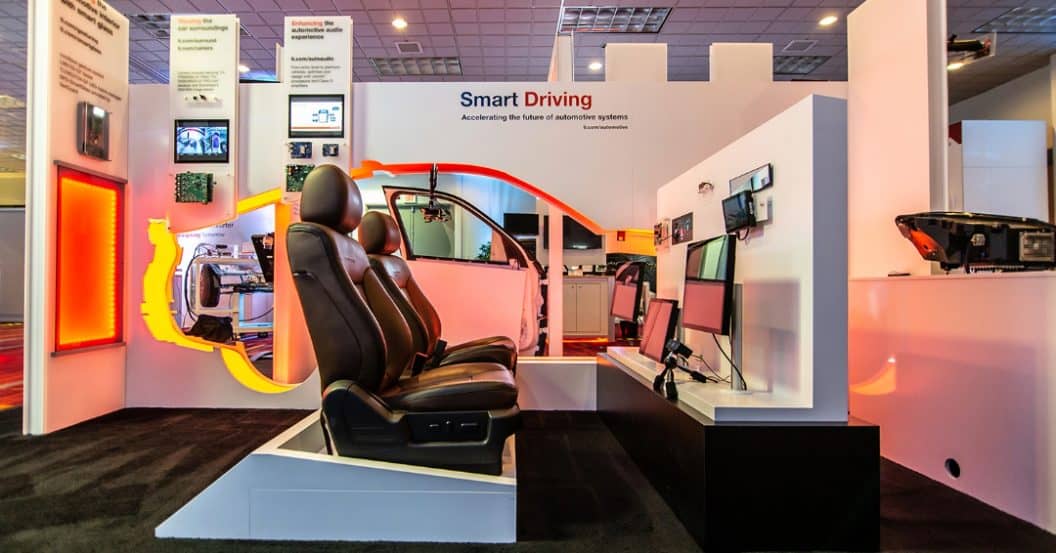 In the automotive industry, innovation is the key that starts the car. Your custom trade show booth can reflect the innovative spirit of your company by incorporating cutting-edge design elements, technology, and materials. Interactive displays, virtual reality experiences, and multimedia presentations can seamlessly integrate into your booth to captivate and engage attendees.
One of the most significant steps towards having an innovative space is incorporating Augmented Reality and Virtual Reality. Virtual and Augmented Reality has taken center stage in the exhibit hall for booth ideas.
With groundbreaking innovations, you can show what your product looks like and give your potential clients an experience of what it might be like to drive your car.
The truth is that Augmented and Virtual reality can make your simple trade show booth design ideas exceptional.
Versatility
Investing in custom trade show booths is not a one-time-only expense, unfortunately. Your booths should be designed with versatility and reusability in mind. You should be able to adapt your booth to different trade shows and conferences, making it a cost-effective, long-term solution. Custom booths are also built to last, ensuring durability and reliability for years to come.
This might be an upfront cost to you and your brand, but being versatile is a must in the trade show world.
The Importance of Having a Competitive Edge
In this highly competitive automotive industry, staying ahead of your competition is crucial for your unrivaled success. Having a well-designed custom trade show booth can give that much-needed competitive edge by showcasing your company's strengths, unique selling points, and innovations. It's an opportunity to demonstrate why your products and services are the best choice for potential clients.
Conclusion
Your custom trade show booths should drive a successful presence at your automotive trade shows. They enable you to make a solid first impression, represent your brand effectively, tailor your booth to your specific needs, and showcase that all-important innovation.
By truly investing in custom booths, you can maximize your space, create a versatile and reusable exhibit, and gain a competitive edge in the automotive industry.
In automotive trade shows, where innovation and creativity are celebrated, a custom trade show booth is your ticket to revving up your presence and leaving a lasting impression on attendees.
So gear up, design your custom booth, and get ready to shine in the following automotive trade show in style.
The Trade Group is a full-service trade show and event marketing company. We will work with you to create an exhibit or an event that brings in leads and helps you achieve your business goals. Contact us here or give us a call at 972-734-8585.
Photo credit: Unsplash