Louisville, KY – The EXHIBITORLIVE 2023 edition is in the books. For the first time in 30 years, the premier event for tradeshow directors and event coordinators took place outside of Las Vegas.
Louisville, KY, home of the Kentucky Derby and the world's finest bourbon distilleries, provided a cozier, more intimate venue in contrast to Vegas' nonstop hustle and bustle, inviting attendees and exhibitors to stop and listen to each other on a deeper level.
The Trade Group exhibited at the show and was privileged to speak with many event professionals, taking note of a few of the marketing trends they want to see more of in their company's booths.
Here's a brief recap from EXHIBITORLIVE 2023 and the marketing trends attendees want to see.
Let's play a little game
Gamification in exhibits is paramount for engaging attendees. Tradeshow directors and event coordinators want to use in-booth games to break the ice with attendees, lowering their guard and opening the door to conversation.
Let's face it, the rise of "social" media has often resulted in less face-to-face interaction. For those who aren't predominantly extroverts, socializing takes practice—and it's clear that sending an email is not the same as talking to someone's face.
What makes the situation worse (and gamification all the more helpful) is the fact that fear of social pain and awkwardness is a primary motivator of human action. People are more likely to act in ways to avoid social pain than seek pleasure. Games help level the playing field because everyone wins, and everyone loses.
In our exhibit, we included a corn hole game, which fit the personality of our display. To make it more interesting, we offered the winner of two attendees a $10 Amazon gift card.
Other great booth games include
Retro arcade games
Gameshow mockups of Jeopardy or Family Feud
Skee-Ball
Giant connect four
Mini golf challenge
The sky is the limit. But remember, it doesn't have to be professional grade—it just has to be fun.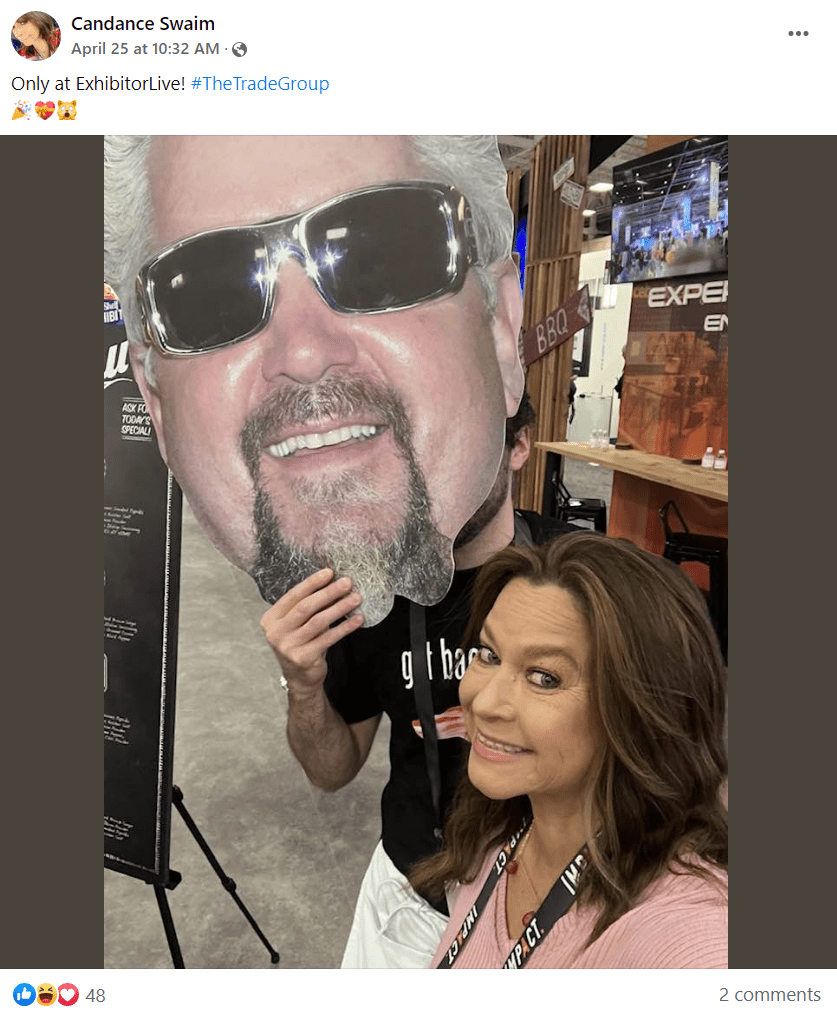 Let me guess, you've got a great personality
Actually, yes. In addition to gamification and high-tech, personality stands out as an important way of reaching target audiences. "Differentiation" refers typically to a unique value offer that separates one company from another; however, getting that message across effectively sometimes requires showing a bit of your fun side.
Showing personality in an exhibit typically falls in the lane of design. Attendees want a booth design that captures the essence of their brand's personality authentically and genuinely.
To accomplish this at EXHIBITORLIVE 2023, The Trade Group designed and built an exhibit reminiscent of a BBQ outpost to reflect its Texas roots. With its HQ in Dallas, TX, The Trade Group is proud of its community and heritage.
Oooh, Ahhhh
Of course, a primary trend that trade show directors and event coordinators want to tap into is emerging technology. It's been true for some time now that the standard 16×9 monitors are commonplace, and attendees can tune them out.
So, what's new in the world of AV? What can be done with LED monitors, lights, and other visual elements? At EXHIBITORLIVE were several exhibits that showcased some unique technical capabilities of AV staging.
Please comment below and tell us about your favorite from the show!
Rubbing it in
Finally, EXHIBITORLIVE attendees were scouring the show floor for ideas on new promotional items. SWAG, as it's often called, is another way to drive traffic to a booth and open the floor up for conversations.
It often works great in conjunction with gamification elements and special sales. The key when it comes to effective SWAG is relevance. At EXHIBITORLIVE, we saw attendees walking around wearing hats inspired by the Kentucky Derby and sipping a refreshing drink. We also say several others holding brand-new longboards.
What was your favorite SWAG item from the show?
As for The Trade Group, we offered customizable BBQ spice rub. Attendees passing by were offered the chance to pick from four recipes or craft their own rub to cook with later. We also gave gift cards to anyone posting pictures and tagging us on social media.
Tell us about your highlight from EXHIBITORLIVE!
Let us know in the comments what stood out to you at EXHIBITORLIVE 2023. If you stopped by our booth, give us a shoutout!
The Trade Group is a full-service trade show and event marketing company. We will work with you to create an exhibit or an event that brings in leads and helps you achieve your business goals. Contact us here or give us a call at 972-734-8585.
Cameron Wilkinson is a writer and editor in Dallas, TX. His writing for the events industry pairs with his interests in sales and marketing. He also holds a B.A. in English Literature form the University of North Texas.