The Association of the United States Army's (AUSA) Annual Meeting is full of opportunities for sales and business leaders seeking to showcase their latest technologies, collect feedback from the Army and nurture relationships with prospects. With the right booth design, AUSA offers a platform to engage the Defense Industry.
Crafting a display that gives the right amount of technical information, captivates attention, and directs traffic, is an art and a science. In this article, I will give a short rundown of what makes AUSA unique, along with some advice on developing a powerful booth design that reflects the quality of your products and services.
About AUSA's Annual Meeting
The 2023 Annual Meeting is taking place October 9th-12th at the Walter E. Washington Convention Center in Washington, D.C. According to AUSA's website, the size of the event is significant. The show organizers are expecting
30,000+ attendees
700+ exhibitors
330,000+ NSF
More important than how many people are attending is who will be attending. The exposition includes the total Army, which consists of the Regular Army, Reserve, civilians, and family members. High-ranking officials are also known to make an appearance, including the
Secretary of Defense
Secretary of the Army
Director of the FBI
Sergeant Major of the Army
Secretary of Homeland Security
For companies, the benefit of exhibiting at AUSA is multi-faceted. Timothy Reese, Director of Business Development at General Dynamics, exhibited at the 2022 show to demonstrate the technological additions to the AbramsX tank. Mr. Reese says, "We wanted to get feedback from the Army about which ones [tech additions] they find useful and which ones they don't find useful." In this case, AUSA is an outlet for discovering what products the Army is interested in purchasing.
Of course, securing the right audience takes thoughtful planning. It isn't helpful to present a product to someone who isn't a buyer. With that said, here are some powerful booth designs to attract AUSA attendees.
Five powerful booth designs that will leave AUSA attendees thunderstruck
The purpose of any marketing materials, whether it's a website, blog, video, or trade show booth, is to support sales. A trade show booth supports sales in the following ways
Driving prospects to the salesperson
Showcasing the unique features of a product
Giving credibility to the product or service
Assuring prospects that the product can fulfill its promise
Raising brand awareness of the company
It may seem strange that a booth can do all of this, but a well-designed one certainly can. How does a booth give credibility to a product or service? The same way that a website and blog signals to prospects that the business they're engaging with is a leader and authority within its industry.
At trade shows, a well-crafted booth signals to prospects that the business has the resources needed to fulfill its promise to its clients. However, don't fall in the trap of thinking that bigger means better. Thoughtfulness in design takes precedence over the size of the footprint.
The sampling of booths below shows how design can make a meaningful impact no matter the space you are in.
1. Islands
Islands are some of the best spaces in an exhibition hall. Island booths typically take up 20×20 spaces or larger. They're particularly powerful because they give
360 degrees of visibility
Greater design freedom
An immediate impression
In terms of visibility, you're not side by side with other booths, and there's no backwall. Regarding greater design freedom, a 20×20 space is when you can begin incorporating hanging signs. This means you can give an immediate and positive impression of your business.
With shipping costs rising, exhibit designs are moving away from heavy, bulky materials like wood in favor of fabric and lightweight metals. The Trade Group uses its lightweight aluminum brand and silicone-edged graphics (SEG) for a sleek, durable design.
Island exhibits work great as a rental or purchase. It really depends on your year-over-year exhibit strategy. For a helpful guide on this topic, read this guide.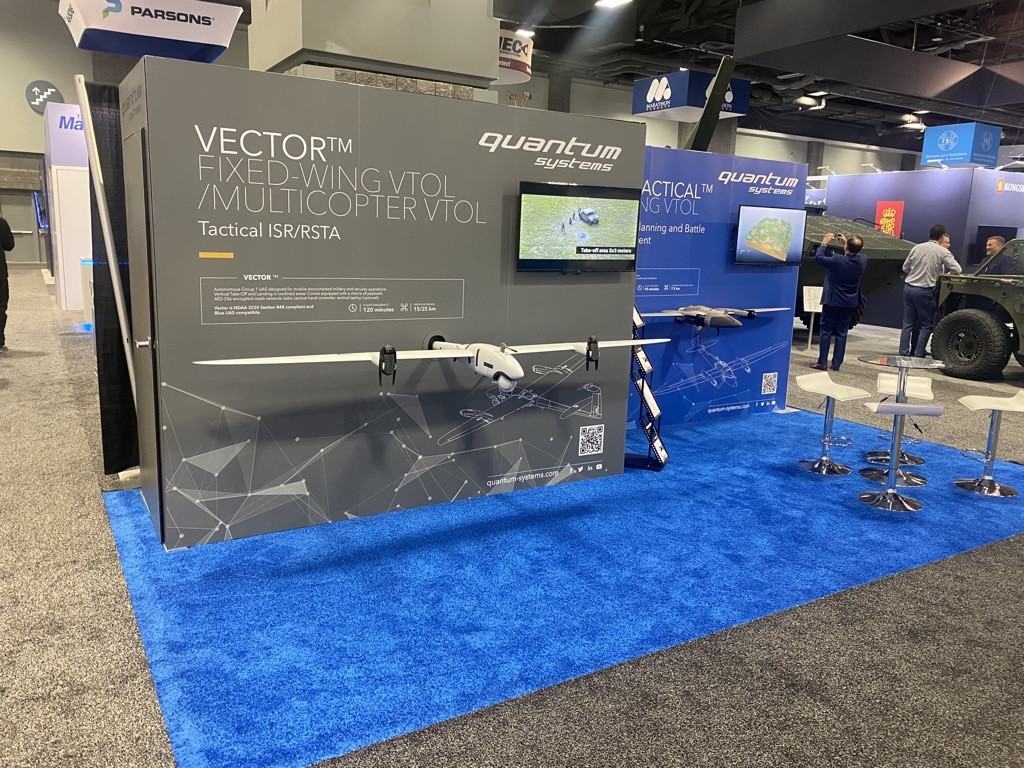 2. Compattos
The Compatto kits are The Trade Group's premium line of portable modular exhibits. They make for a high-quality 10×10 or 10×20 inline exhibit and can be easily expanded to include custom elements. For instance, we built a special support system for Quantum Systems so that they can display their drones on their wall.
3. Custom
Custom exhibits go above and beyond securing a presence at a trade show. These are the showstoppers. A custom exhibit should be thought of as the ideal manifestation of your brand. The Trade Group's design and engineering team can build just about anything.
Those dramatic beams and columns in the Aerometals booth above were an engineering feat for the record books. Our engineers found a way to thread four 10-foot-long pieces together to prevent sagging. The result was a fast, functional and correct design that can be assembled quickly on a 16'-18' ladder.
Of course, the process of building a custom exhibit takes a longer time. In some cases, a lead time of up to 6 months is necessary. A lot of collaboration must take place to transform your vision into a reality and must be constructed.
4. Hanging Signs
Hanging signs are critical in AUSA for booth spaces used solely for showcasing products. While a hanging sign may sound plain, a surprising amount of nuance and design goes into crafting a hanging sign that captures attention and improves retention rates.
Read this blog for what you should include in your large-format graphics.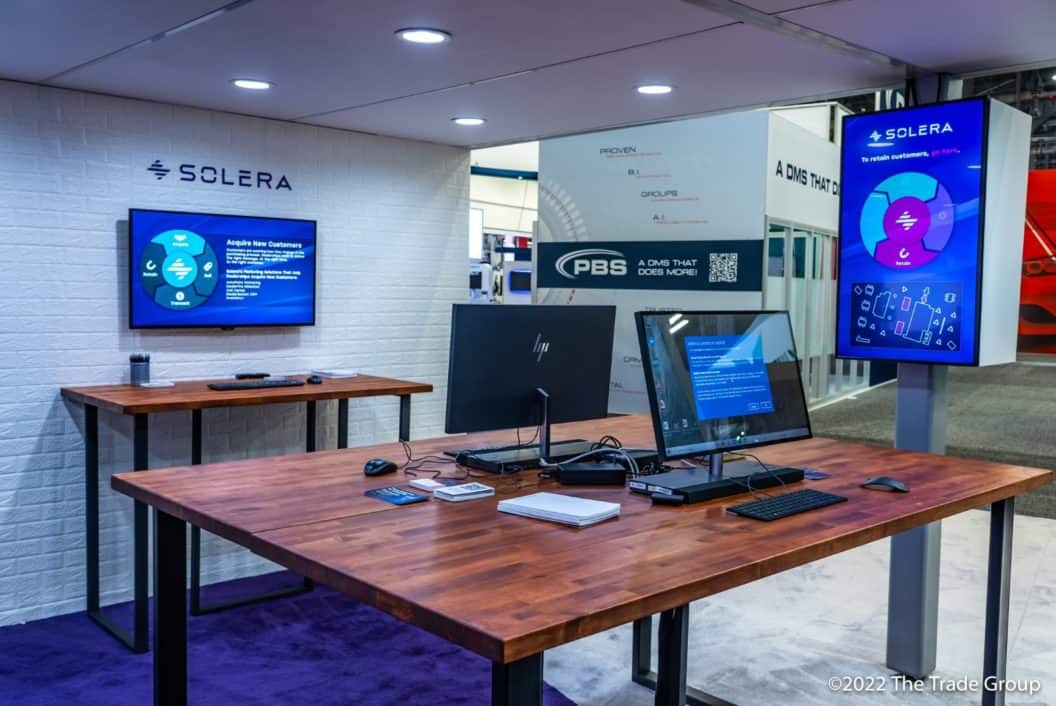 5. Audio Visual Elements and Booths
Technology is constantly evolving. But there's an effective way and an ineffective way to incorporate tech in your booth. AV elements should never be thrown in frivolously. They're not going to conjure your target audience at a show magically. Nonetheless, AV elements are a great way to engage prospects on the show floor.
For example, AV works particularly well for educating prospects about a new product or service. Often, a static image or brochure is unable to sufficiently demonstrate how a product functions or how the service is used in real-time. However, this is where AV elements like TV monitors, Augmented Reality (AR) and touchscreens excel.
Conclusion
I hope you found this short article helpful as you prepare to exhibit at AUSA. If you need help brainstorming ideas for your exhibit, feel free to contact me. I'll work with you to create an exhibit or an event that brings in leads and helps you achieve your business goals. Contact me here or give us a call at 972-734-8585.
Photo credit: Pexels