A profitable trade show program begins with your WHY
First, let's talk about the challenges of developing a profitable trade show program. For one thing, trade shows are expensive to produce. For another, attendance has been down since 2020.
But perhaps the biggest challenge for developing a profitable trade show program is discovering your WHY. If your only reason for going is to keep an eye on your competitor or ensure that one crucial client sees you, you've been doing it all wrong.If you follow the proven steps below, your trade shows can be one of the most lucrative opportunities for lead generation, increasing revenue and raising brand awareness.
23 easy steps for a profitable trade show program
---
Pick the right show
Research your company
There are only three things you need to know like the back of your hand. They are your company's:
Markets (this includes industry trends)
Products/services
Marketing goals and objectives
You probably have a good sense of the trends in your marketplace, but if you're new to the company or want to make sure everyone is aligned with the same goals, then interviewing internal sales, marketing and product management is a good idea. For info on industry trends, start with trade publications, industry research/information services and reports.
Search trade show industry resources
Before you begin, create a list of criteria to narrow your search for potential shows to attend. The requirements can include things such as:
Number of attendees
Job types of attendees and demographics
The kind of organizations that attend (manufacturing, contracting, BsC, B2B etc.)
Date and location
There are several places where you can find this information. Start by using our trade show search tool above. All you need to do is type in your industry and a list of the # of exhibitors, attendees, date and location will appear.
From there, continue your research by…
Visiting the shows' website
Downloading their prospectus if they have one
Rea their "why exhibit" section
Interview show management, asking them about latest show stats, their outreach/advertising and promotions to attract new attendees.
Set your budget early
Setting your budget early can narrow your search for viable shows even more. Here are two quick and easy ways to get a reasonable ballpark estimate for each show.
Analyze and decide
In many ways, this is the most critical step. The major outcomes expected from your intensive research are:
Should you exhibit?
If exhibiting is warranted, what level of investment are you justified in making to reach all your potential audience and to compete effectively with your competition and other exhibitors in the show?
What should our strategy for each event be and what objectives are realistic to set?
Calculating and knowing the size of your potential audience is the most important information you have for determining whether exhibiting is justified or not. All of these things should be taken into consideration before you make that final decision.
Set your KPIs
To demonstrate the success of your trade show program, identify the metrics you want to measure and compare results year to year. What key performance indicators (KPIs) are important to your organization?
Trade Show KPIs may include:
Sales revenue
Qualified leads
Booth traffic
Customer meetings
Prospect meetings
Lead to customer ration
Cost per lead
Press mentions
Social media engagement
Using KPIs, you'll want to measure and compare how each show performs year to year and how different shows stack up against one another. This insight will help you determine which shows are worth attending and which ones are not. Visit here to get a free ROI calculator.
---
Design a booth that supports your goals
Select the best booth size and location
Selecting a good booth location can greatly affect the outcome of your show. It's an important decision, so make sure you put a committee together to collect facts about the show and get manager buy-in.
Here are some good rules of thumb to help guide you through the process:
Make it a group decision
Get recommendations from show managers
Locate your competitors on the show floor
Locate companies that might not look so hot
After you get your group together and talk with show management, keep these high traffic locations in mind:
Main entrance
Exits
Bars
Food courts
Sponsorship areas
Intersection of two aisles
Non-competitive companies that might be attracting a lot of attention
Keep in mind, it might not be best to be in the highest-traffic locations, particularly the main entrance and exit. It can be difficult to conduct business in crowded areas. Remember this golden rule of booth traffic: a crowded booth is only good if it is full of leads.
Design the perfect display for your booth
The perfect display will help you accomplish your goals for the show. Before you begin your search, you should know the three different kinds of displays: portable, modular and custom.
Portable

10×10 – 10×20 booth space
Available only for purchase
$15 – $60 per SQ. FT
Durable
For small spaces and tight budgets
Modular

Can fill ANY booth space
Lightweight
$75 – $100 Per SQ. FT
Flexible and Durable
Add custom elements
Custom

Bigger booth spaces 20×20 – 60×60!
Creates an immediate impression
$150 per SQ. FT and beyond!
Ideal manifestation of brand
Needs to be stored
The best way to find the perfect booth is to ask a series of questions. Start by remembering your goals and budget. Then think about your competition is using, your position in the market, size of your booth space, number of shows your attending in a year and how flexible you need your display to
Use the four traffic stoppers
The sure-fire way to grab attention in a busy show room is to use at least 3 of the four traffic stoppers:
Large format graphics
Backlighting
Movement
Live presentations
Be sure your graphics clearly communicate your company's unique value proposition (UVP). In other words, your booth needs to convey WHO you are, WHAT you do and WHAT you do BEST.
Include creative lighting
Lighting can make or break your booth. Yes, it's that important. And, unfortunately, it's one of the first things to go when budgeting for a show. However, lighting can be one of the most effective tools for getting prospects to notice your booth.
We recommend using at least one of these four lighting options:
Light boxes
LED screens
Projection mapping
Backlighting
Pick promotional products your prospects want
What was the last gift you remember receiving? Notice I didn't ask what was the last gift you received. The reason why is because most memorable gifts come from a close friend or relative. In other words, from someone who understands us.
That's why picking the right promotional products begins with an understanding of your target audience. So make sure you gather consumer data based on a variety of criteria. For example, age, industry, job title, pain points, etc.
Right now, the trending promotional products are
Self-care kits
Green giveaways
and Donations
Attract your audience and stay at the top of their minds with great gifts.
---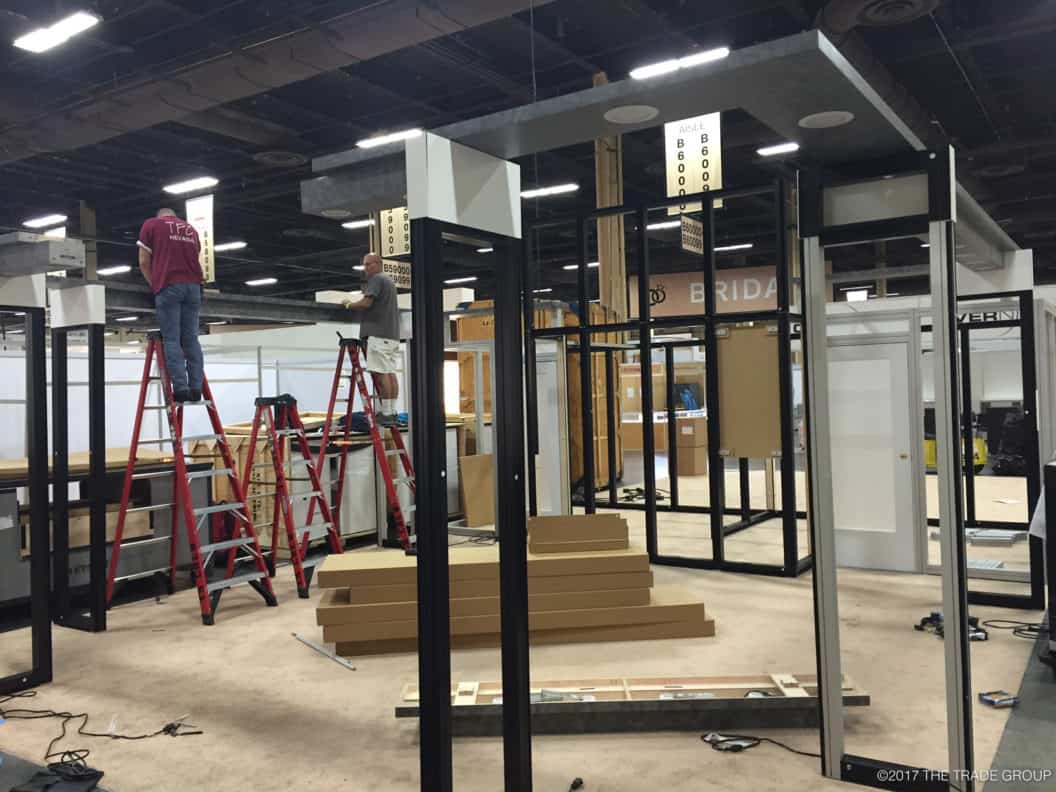 Have a plan for exhibit installation, dismantle and storage
Complete all service forms on time
Please pay close attention to due dates and be on the lookout for early-bird deadlines that can save you a lot of money. Each service's date will vary, so watch them closely!
If using outside labor, complete the exhibitor appointed contractor (EAC) form
An EAC usually means the company that designed your booth is going to install it for the show. This is highly recommended, especially if your booth design has custom elements. Leaving the work for the show vendors can lead to costly confusion if your set-up does not have clear instructions.
When shipping, check to see if your provider has experience with trade shows
There are many, many rules and regulations that are strictly enforced for shippers delivering show materials. Making sure your shipping partner is familiar with delivery restrictions ensures your exhibit will make it in time for the show.
Be informed of union and labor rules of the city
You may think you have a pop-up and can set it up yourself in minutes, and that may be the case, but in most instances, union states limit what tools you can bring on to the show floor. This applies to simply plugging in lights and AV, too.
Know the targeted move-in times
These rules are also strictly enforced. Larger shows will tell you when you can move your freight onto the floor. If you require an early move-in time, ask permission from show management. It's not guaranteed, but they usually can work something out for you.
Bring a physical copy of all paperwork
This includes:
Show forms
Set-up instructions
Electrical layout
And exhibit orientation (the direction the front of your exhibit faces)
It would be best to bring the forms with on the plane—don't leave them in your check bag or hotel room.
Check with your exhibit house to see if they have an event management program
Some exhibit houses can manage your entire trade show program, including booth design, filling out all the documentation, installation & dismantling, storage and training the booth staff.
---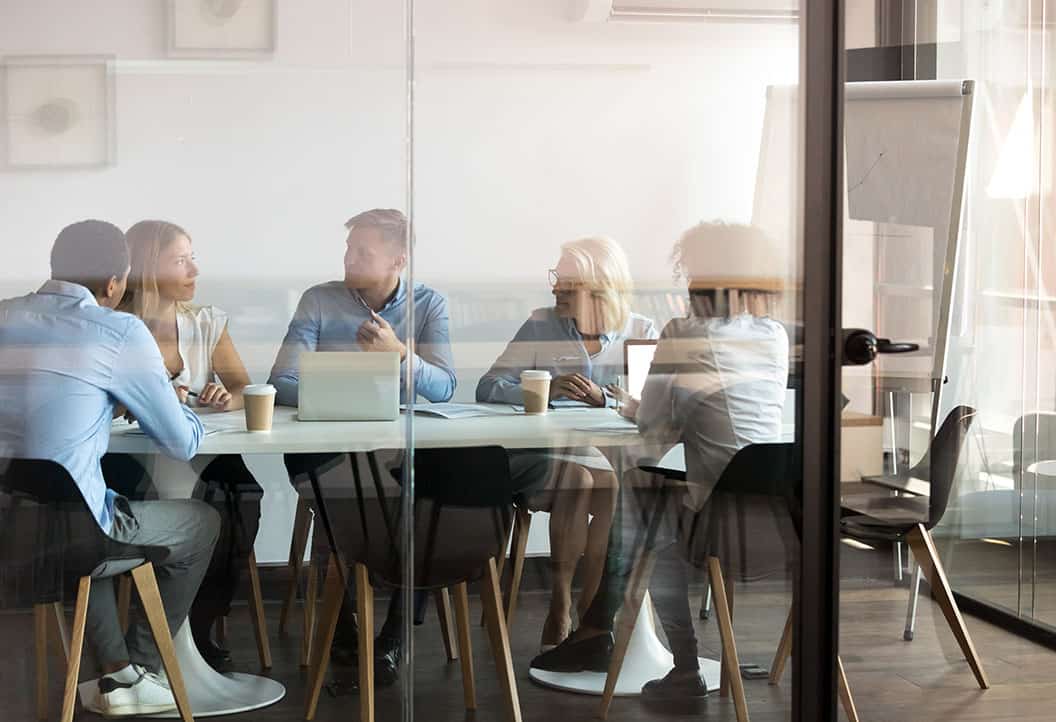 Train your booth staff
Reiterate goals for the show
This includes targeted sales revenue, qualified leads, booth traffic, customer meetings and prospect meetings.
Remind staff of the challenges
For example, the average time for attending trade shows is roughly 9.5 hours. If each interaction lasts about 5-10 minutes, and you have 2-3 staff, then the maximum number of people in your target audience that you can interact with is between 114 and 171. Reminding your staff of the challenges can lead to a brainstorm session to finding solutions.
Nail down the sales pitch
Because of the limited time and number of prospects on the show floor, each pitch should last 3-5 minutes to maximize the time. A great way to nail down the pitch is to have the team practice with role-playing. Understandably, many members may feel uncomfortable selling on the show floor. Be sure to remind them that selling is a learned skill—it takes practice.
Hold your team accountable
Meet after the show to review the team's performance. Naturally, there will be members who have suggestions on how to improve for the next show. Jot them down and begin preparing!
---
Be disciplined with post-show follow up
Call, email or send a personal note to leads
Leads are fantastic, every sales person wants them but they have to get called. Your success in post-show tactics is dependent on how well you rank, filter and qualify leads at the show. If you have too many leads that are tire-kickers, then the sales will give up and stop calling.
Assign a lead monitor to track lead progress
Prepare a strict timeline and hold sales accountable
Attempt to contact no less than five times
You can have to remember that a great post-show follow happens before the show.
Measure Return on Investment
This is one of the most difficult challenges of a marketing director. One reason is because it can take months before a leads turns into a sale. Another reason why it's so hard is because there's a lot that goes unmeasured. For example, do you calculate the
Value of current retention growth?
current revenue growth?
Value of cost savings?
Social media impact?
Value of lead generation?
You can quickly learn EVERYTHING there is to know about mastering trade show ROI by using our whitepaper below.
---
Want to attract more buyers at your next show? See below!
The Trade Group is an award-winning exhibit house that offers full-turnkey services for trades shows, including exhibit design and complete event management. Contact us or call at 972-734-8585 today to ensure a more profitable trade show!