Location. Location. Location.
That's what real estate agents stress when searching for a home, office or commercial building.
And the truth is location matters for a lot of things–trade shows included. So, how does one select the best booth location on the show floor?
Here's a simple guide we've made to help you through the process: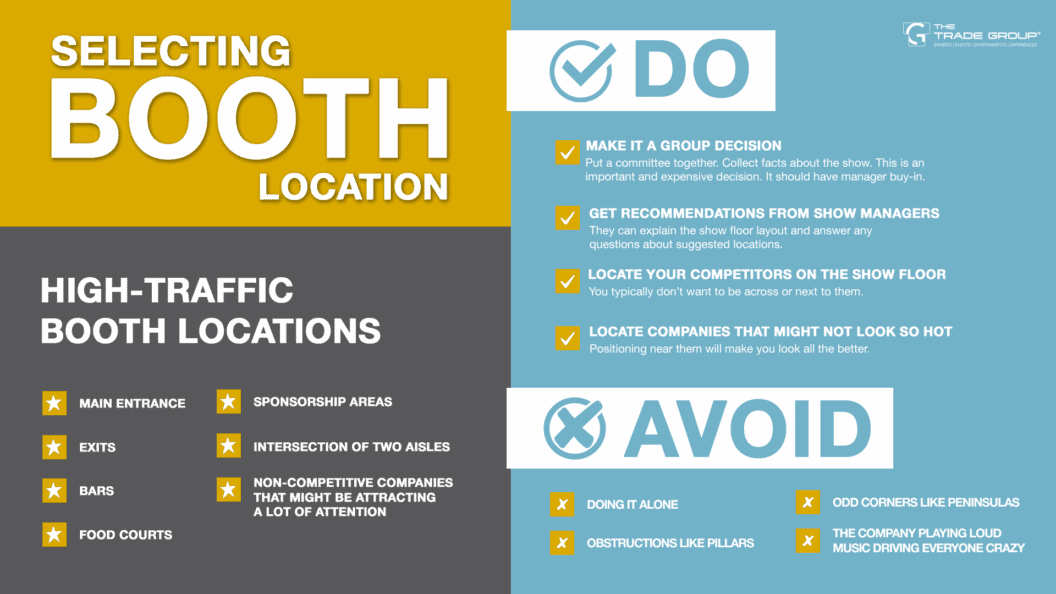 ---
Pro Tips
There are a few things to keep in mind while reviewing the information above.
First, it might not be ideal to be in the highest-traffic locations, especially the main entrance and exit. The reason is that the crowded areas make it a difficult place to conduct business. After all, a crowded booth is only good if it is full of leads.
However, being close to the entrance or exit can work well enough. An interesting study suggests that Americans tend to lean towards the right after they enter a building or hallway. So, positioning yourself near the entrance on the right-hand side may bring just the right amount of traffic to your booth.
Second, a well-trained booth staff and pre-show marketing plan will trump a good booth location that lacks seasoned booth staff and strategy. Around 80% of attendees remember the exhibit based on the booth staffers, and most attendees have a pre-show agenda with booth locations marked out.
If you need help with training your staff or developing a pre-show marketing strategy, an excellent place to start is by watching our 30-minute webinar on booth staff training. Do you still need help finding the perfect location? Reach out by contacting us here or giving The Trade Group a call at 972-734-8585.