The four steps to securing quality leads at trade shows
Sweaty palms. Darting eyes. Sore cheeks from smiling. It's understandable to be stressed about returning to the tradeshow floor.
But don't worry, champ. Here's a reminder about the four steps to marketing successfully at tradeshows. This will help you focus on what's important and get you back in the saddle.
The first thing to remember is you're there to find leads.
Whether they are in the form of customers, investors, or like-minded professionals in your industry, it doesn't matter. Capturing leads of any stripe takes the same general path.
In order to meet your objective, here are the four well-known steps necessary for securing solid, quality leads on the showroom floor.
---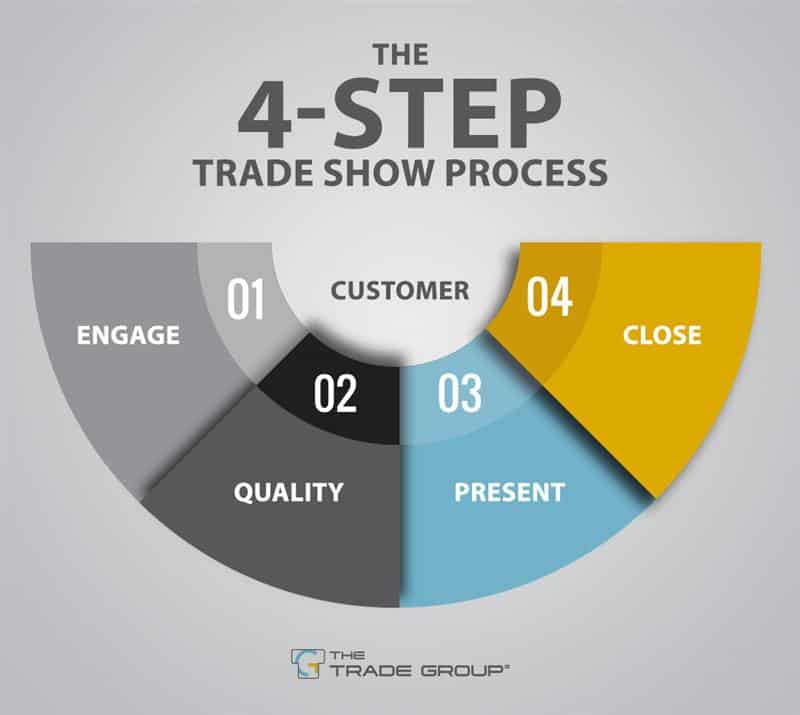 1. Engage
Before you can talk to prospects and qualify them as leads, you have to get them to your booth first!
While many tradeshow service providers would like to jump right in and talk about booth design equipped with backlighting, colorful graphics, and experiential elements, the reality is engaging with your audience begins before you ever step onto the floor.
For example, research what percentage of your audience is attending the show, and then contact them through email and social media to let them know you're going to be there.
Social Media
Many people attending tradeshows mark out the location of companies they want to speak to beforehand. After all, there can be hundreds–even thousands–of vendors attending. Telling people about your existence begins on your social media accounts and email campaigns.
You'll want to create some hype before you make your appearance. Here are some strategies for engaging your social media followers and motivating them to visit your booth:
Tell them your booth # and location
Create a sense of urgency with a promotional offer they are eligible for only when they stop by your booth (i.e., $100 Gift Card)
Make a vlog previewing marketing collateral such as pins, pop sockets, etc. they can receive only by visiting your exhibit
Building expectations is a big part of increasing engagement. We've found pairing sleek graphics with our message gets more engagement on social media.
Click here for a free guide on securing meetings with prospects before the show, and a free marketing email template.
The next thing is preparing your booth to live up to the hype. This is where we begin thinking about trade booth design.
Exhibit Design
Did you know large format graphics boost initial awareness by 78%?
While social media is essential, it won't reach everyone. You will meet new people at the trade shows. Hence, an excellent reason to make your display–and staff–stand out.
Here are some other proven methods for capturing attention and increasing engagement:
Hanging signs
Monitors with videos showing your product or service in action
Backlit counters and banners
Gamification, such as a contest for attendees to enter
Click here to download a free whitepaper on the best exhibit design trends of 2022.
2. Qualify
If you have successfully pulled off the first step, you will see people congregating around your booth wanting to participate in your contest or seeking information.
But not everyone will be there to build lasting business relationships. At this second step, you must perform the "Big Sort."
You have to determine if they are going to buy. If they aren't, then disengage. If they are, ask questions and rank them as an A, B, or C lead.
This is where quality booth staff makes a difference. 80% of visitors remember tradeshow exhibits based on booth staff.
3. Present
By now you've engaged with a visitor and determined they are a buyer.
The next thing is to present your product or service. And here's the thing. It shouldn't sound like selling.
If you want to be persuasive, remember these three keys:
People don't like being sold
People buy with their feelings
People need to justify their decision
So don't simply tell them about your service or product capabilities. Especially if you're service-based.
In the service business, you're not merely selling a particular action. You're forming a relationship.
But in either case, here are two things to consider when drafting your elevator speech.
1. Brag About the Benefits
Benefits are different from features. Features tell you about the product's capability. For example, car commercials don't list miles per gallon, horsepower, the touchscreen dashboard, or other details. Instead, they tell you that you can be the baddest person on the highway by driving their vehicle. Don't tell them what your product does. Tell them what it does for them.
2. Tell a Story
People respond to stories. remember the old adage: facts tell, stories sell. Your elevator pitch should be a story.
An easy way to frame your tale is to follow SPAR (Situation, Problem, Answer, Result).
When it comes down to securing leads, presentation is everything. It could make or break you. Fortunately, there's no need to fret. If you've mastered the first two steps, then you'll have a continuous supply of leads to refine your elevator speech.
4. Close
Finally. Closing. Closing is arguably the most crucial part.
It's what we all want.
Closing essentially means you got your lead to commit to an action.
But there are levels of commitment. Committing to a time to meet another day is a close. Committing to filling out information is another. And committing to purchase is the best close.
The kind of closing you're looking for depends on your sale cycle and product or service.
The more expensive the purchase, the longer it might take your lead to decide.
However, at tradeshows, especially B2B shows, managers with buying authority are out of their natural habitat and more personable. They aren't surrounded by a wall of "no's". This would be an excellent time to close on setting a date to speak more about your product and service.
---
Conclusion
And that's it! Four simple steps to securing leads at trade shows. Easy, right? If you're still fretting about returning to the showroom floor, think about contacting us for help.
To learn more about our fantastic trade show displays and how they help you stand out from the crowd, give The Trade Group a call at 972-734-8585 or contact us here.