Las Vegas, NV — The KBIS/IBS show floor has always been electrifying, but this year's edition was packed full of astounding showcases of impressive exhibits and marketing know-how.
According to the official publication of the National Kitchen and Bath Association (NKBA), this year's annual Design & Construction Week brought in over 200,000 housing and design professionals to Las Vegas.
The IBS and KBIS shows indicate that the home furnishing and event industries are thriving. What's more, there are no signs of things slowing down. The Trade Group had multiple boots on the ground at the show, looking after exhibits and studying the trends.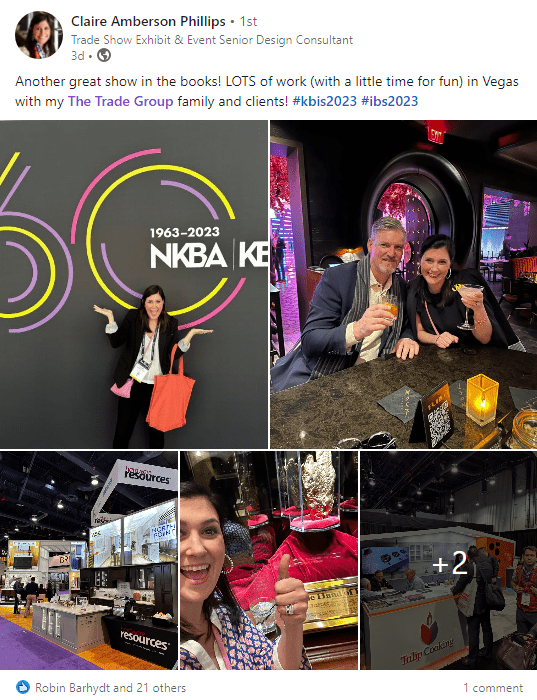 Here are some of the hottest marketing trends from 2023 KBIS/IBS show floor.
Startups and small business still find trade shows highly valuable
Many companies in the years following the lockdowns took a second look at their trade show marketing program. During the absence of events, some companies were left scrambling to update their digital marketing assets to pick up the slack. For others, however, making the adjustment was easy.
Now that events have been back for a solid two years, a strong consensus is appearing that underscores the value of industry trade shows. In 2022, show floors were selling out. Attendance saw a sharp uptick. Sales were up. This year's KBIS/IBS edition proves that trade shows are on the path to a very healthy return.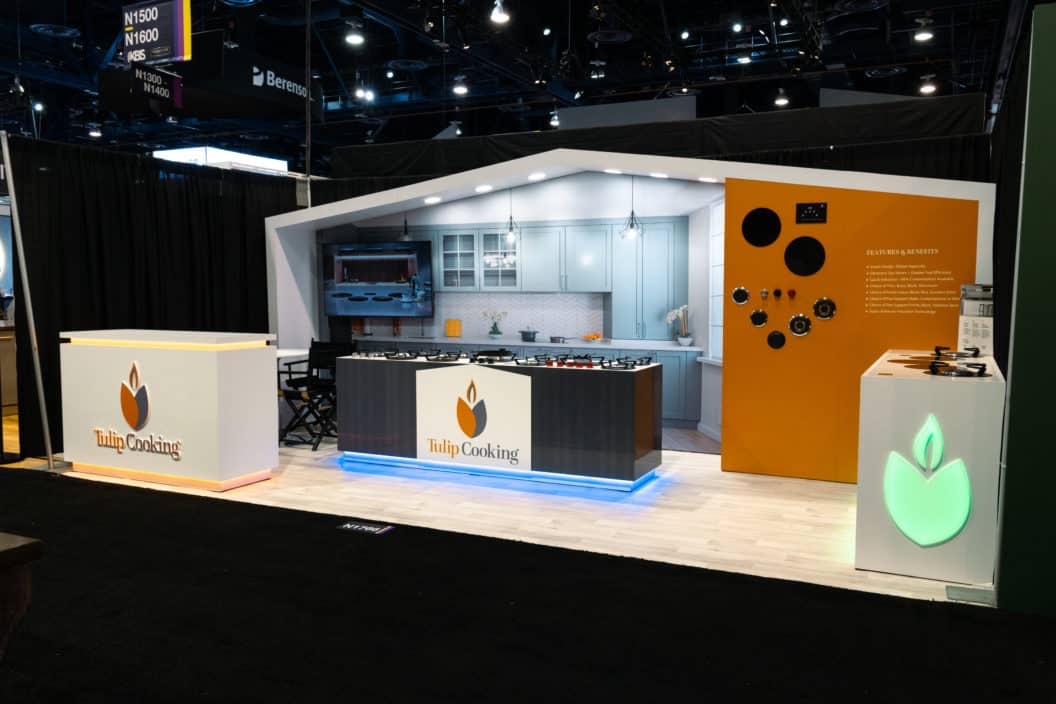 Tulip Cooking is a startup attending KBIS for the first time. Michael Walker, President of Tulip Cooking, says, "Being a new company, it's very important for us to make a big splash at KBIS." Their biggest goal for exhibiting at KBIS was to raise brand awareness. Walker adds, "Before we came to the show, we worked with the KBIS app to make sure we were making the right connections, and we were big on social media."
Big industry trade shows are getting even bigger
According to the National Association of Home Builders (NAHB), the 2023 edition of IBS alone attracted its largest audience in the last ten years. Together, KBIS and IBS brought in roughly 110,000 attendees. Of course, a show of this size has a global reach and attracts many influencers and celebrities, such as Anthony Carrino from Kitchen Cousins.
Why are the big industry trade shows getting bigger? There may be a few reasons. At the top would be that people who haven't been to a trade show since March 2020 are finally returning. In 2021, KBIS tried to move to a virtual show format but canceled due to technical issues. KBIS finally returned in person in 2022, which we reported on here. Clearly, there is still plenty of value in the event industry, as its return seems inevitable.
Hardware Resources is one of the few companies that never missed a beat. They have a vigorous trade show schedule that includes exhibiting 52 trade shows a year. Their booth is an excellent example of design, flexibility, and effectiveness.
A new golden age of exhibit design?
The show floors at KBIS and IBS were absolutely stunning. You could spend the entire four days exploring the exhibits and learning about the latest products, services, and home designs, and still not see everything there is to see. Among the most impressive were Kholer's fully operable shower heads complete with running water.
Another awesome exhibit came from ClosetMaid, whom The Trade Group was fortunate enough to partner with for KBIS. Big, custom exhibits dominated the show floor with some of the most jaw-dropping activations and eye candy you've ever seen.
One reason design may be so strong at a show like KBIS and IBS is that home industry designers partner with exhibit designers to create something truly unique. The amount of design expertise is palpable on the show floor.
Conclusion
I'm already looking forward to next year's KBIS. Click here to get the official dates and location. Also, if you're in need of updating your trade show program strategy with a new exhibit design, contact me below, as I would LOVE to lend a helping hand.
The Trade Group is a full-service trade show and event marketing company. We will work with you to create an exhibit or an event that brings in leads and helps you achieve your business goals. Contact us here or give us a call at 972-734-8585.
Claire Phillips is a senior account executive with The Trade Group in Dallas, TX. With over 10 years of experience helping residential and commercial construction companies put their best foot forward at trade shows, she is here to help. Claire brings a seasoned set of eyes to your trade show needs so they can increase their ROI on the trade show floor.
Photo Credit: Pexels