Believe it or not, the Big D is ranked as one of North America's top destinations for trade shows and conventions. Undoubtedly, this is due to its central location and incredible business growth. If you're in town, here are the ten best free things to see in DFW in 2022.
Dallas and Fort Worth are known for offering very different things. Dallas is generally known for its music scene, growing nightlife and historical landmarks. Fort Worth, on the other hand, is known for its rich heritage, the Stockyards and gardens.
There's plenty to do that won't break the bank. If you're here for the first time and want to see as much as possible, plan to visit these places.
What kind of things are there to see in DFW?
Read this first. If you're not one for getting out much, don't worry. The first five things to see in Dallas are conveniently located near the Kay Bailey Hutchinson Convention Center. But if your heart is set on Fort Worth, understand that some driving is involved to get there.
1. Dealey Plaza
Get your itch for history scratched by visiting the grounds where J.F.K. was assassinated in 1963. Since that fateful day, the building where Kennedy's shooter was found has been transformed into a museum. The Sixth Floor Museum at Dealey Plaza tells J.F.K.'s story with special exhibits and artifacts.
While the museum is not free, you can still visit Daley Plaza, walk the Grassy Nole and soak up the history (and conspiracy theories.) Close to Dealey Plaza is the Old Downtown District of Dallas. Stroll along Commerce Street to see historic hotels like the Adolphus and the Statler.
2. Klyde Warren Park
Conveniently next to the Dallas Museum of Art (DMA) and other activities, Klyde Warren Park is a real gem. Enjoy an evening complete with scenic city views, food trucks and FREE trolley rides. It is a bit of a hike from the convention center, but it makes for a short Uber ride, and it's totally worth it.
3. The Dallas Museum of Art
Did you know the DMA is one of the largest art museums in the United States? As they say, everything's bigger n' Texas. Founded in 1903, the museum contains art and artifacts ranging from six different centuries on five different continents. Entry is free. And it's just a 3-minute walk from Klyde Warren Park.
4. The Dallas Farmer's Market
The Dallas Farmer's Market is also close to the arts district, the home of the DMA and Klyde Warren Park. It's a daily market, so don't worry about missing it. The market focuses on seasonal produce, specialty food, honey and flowers. If you're snacky and in the mood to try something new, this is the place to be.
Of course, walking under the pavilion and in the neighboring shopping outlet is great, too. Get a sense of the local art and products.
5. Deep Ellum
There's plenty to do in Deep Ellum. Catch a glimpse of the Winspear Opera House or go on a free mural tour. Populated with large outdoor paintings and artwork, there's plenty of photo ops and fun things to look at. If you're willing to spend some money and happen to be there on a Saturday, think about taking a brewery tour at the Deep Ellum Brewing Company.
6. Bishop Arts District
Moving West from the convention center, crossing the Trinity River, you'll run into the Bishop Art District. While not within walking distance, it's certainly a unique place worth visiting.
Check out the indie art scene, grab a cider from Bishop Ciders, or a coffee from the Wild Detectives. Try Eno's café for pizza and delicious brownies for a more substantial meal. This scenic area is quiet in comparison to the city center.
7. White Rock Lake
The Dallas Arboretum and Botanical Gardens are right next to the reservoir. It is a drive from the convention center, but you can't beat one of White Rock Lake's trails if you love to go on walks or morning runs.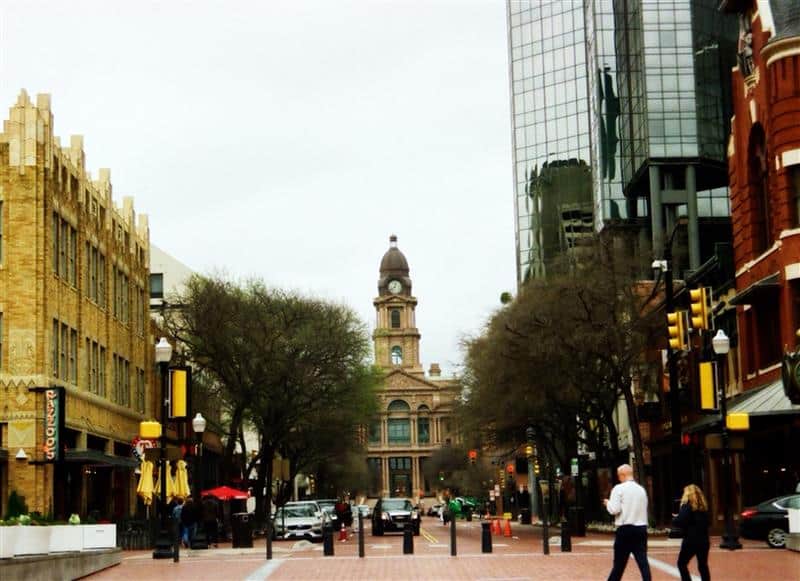 8. Sundance Square, Fort Worth
Fort Worth is unlike any other Texas city. It's as country as a city can get. Sundance Square is centrally located and puts you near all the major shops and restaurants of Fort Worth. If you're renting a car, think about going to the Coyote Drive-In Theatre for a nostalgia trip.
9. Stockyards, Fort Worth
The Stockyards is listed on the National Register of Historic Places. Cattle Drives are held daily at 11:30 am and 4 pm. What is a cattle drive? A cattle drive refers to moving a herd from one place to another. You can watch the drive from the sidewalk or one of the many restaurants on the street.
There is no admission to get into the Stockyards.
10. The Trade Group's newly minted showroom
If you're in town for a trade show or convention and don't know when to stop working, stop by The Trade Group for a visit. We'll give you a FREE tour of our showroom and warehouse. You won't lack ideas for your next trade show program after you walk out.
If you're interested in being our guest, contact us below to schedule a free tour!
The Trade Group is a full-service trade show and event marketing company. We will work with you to create an exhibit or an event that brings in leads and helps you achieve your business goals. Contact us here or give us a call at 972-734-8585.
Photo credit: Rebekah Wilkinson