Before you sit down to design your exhibit, it's a good idea to familiarize yourself with the event's booth design regulations and rules. For example, did you know the maximum height for standard 10×10, and inline booths is eight feet? That's just for the back wall. For the sidewall, it is at most four feet. The general rule is that you cannot block the line of sight for other exhibitors down the aisle.
At first glance, one might feel constrained by the myriad regulations that dictate each booth's setup and design, but as poet T.S. Eliot wisely said, "When forced to work within a strict framework, the imagination is taxed to its utmost and will produce its richest ideas. Given total freedom, the work is likely to sprawl."
The truth is we need some limitations to provide guidance, ensure a level playing field, and test our creative muscles. With that said, here are some of the most common booth regulations, rules, and conundrums to be aware of before designing your exhibit.
Booth Regulations
The International Association of Exhibits and Events compiles the guidelines used by most events and exhibitions. There are four types of booth setups: Standard, Perimeter Wall, Peninsula, and Island. Each space has its own general rules, which we will point out one at a time.
Standard or Linear Booths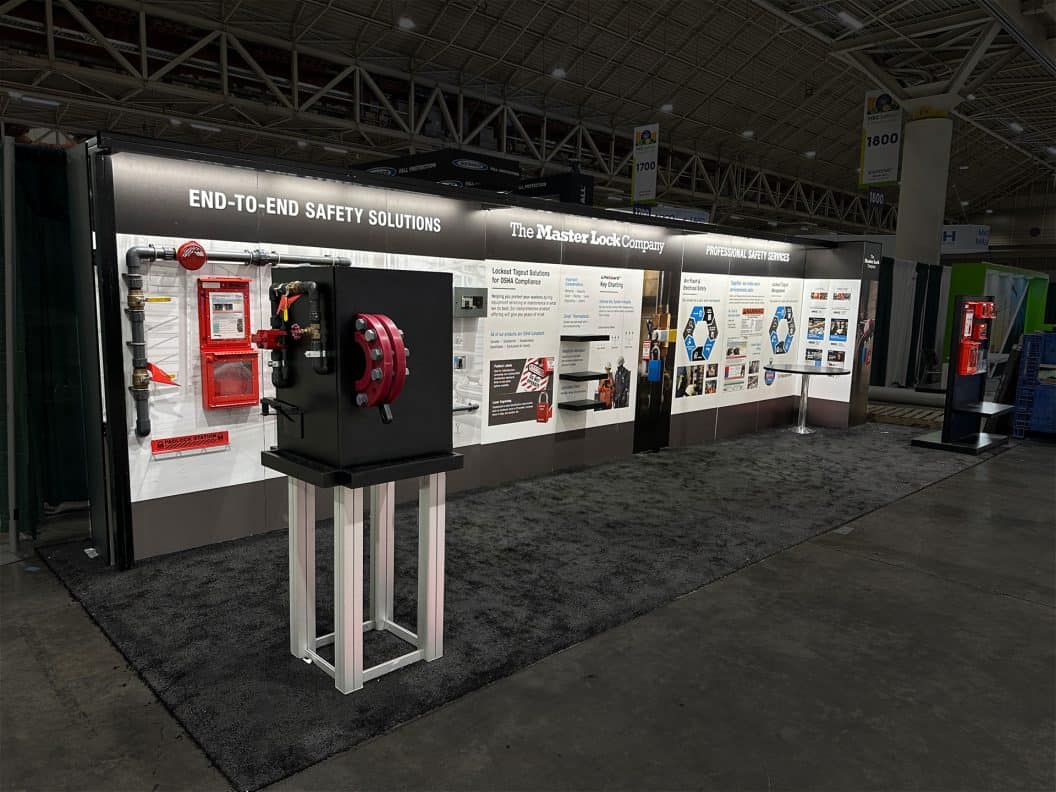 Standard or linear booths are the most common types of exhibition booths used at trade shows and conventions. These booths are typically arranged in a straight line along an aisle or perimeter. They usually have a simple, clean design.
The maximum height for standard booths is eight feet high. This eight feet may be maintained on the sidewall of your booth up to a distance of five feet from the front aisle. However, the remaining length of the sidewall may be at most four feet. A critical note to be added is that hanging signs are typically not permitted over standard or linear booths.
These regulations are in place to ensure a level playing field for all trade showgoers and to maintain an organized appearance throughout the event.
Perimeter Walls
Perimeter wall booths are situated along the outer edges of the exhibition halls, often next to the walls or partitions that define the boundaries of the trade show floor. They have only one open side facing the main aisle or walkway.
This prime location on the trade show floor can provide good visibility and foot traffic. The size and the layout can vary from one event to another. However, the maximum height for the perimeter wall booths is twelve feet. The remaining sidewall length may be at most four feet, and just like standard booths, hanging signs are not permitted over perimeter wall booths.
Perimeter wall booths have some unique advantages over the other booth types. They often have more flexibility in design and layout, as they typically have only one adjacent neighbor. This can make setting up and customizing the booth to meet your marketing objectives and goals easier. Additionally, as touched upon, they tend to benefit from high foot traffic.
Peninsula Booths
Peninsula booths are designed to open on three sides, typically with one side facing the main aisle of the trade show floor and the other two sides facing your friendly neighboring booths or walkways. Peninsula booths are usually larger than inline booths, offering more space for creative displays, product demonstrations, and interactions with potential clients.
There are two types of Peninsula Booths: one that backs up to linear booths and one that backs up to another Peninsula booth. This is commonly referred to as a "Split Island Booth." However, for all peninsula booths, the exterior of the back wall of the booth must have a plain finish and may not, under any condition, contain any booth identification, such as logos or advertisements.
Another regulation is that the peninsula booths only have a maximum height of twelve feet. This height can be maintained on the side walls of your booth up to the distance of the front aisle.
Island Booths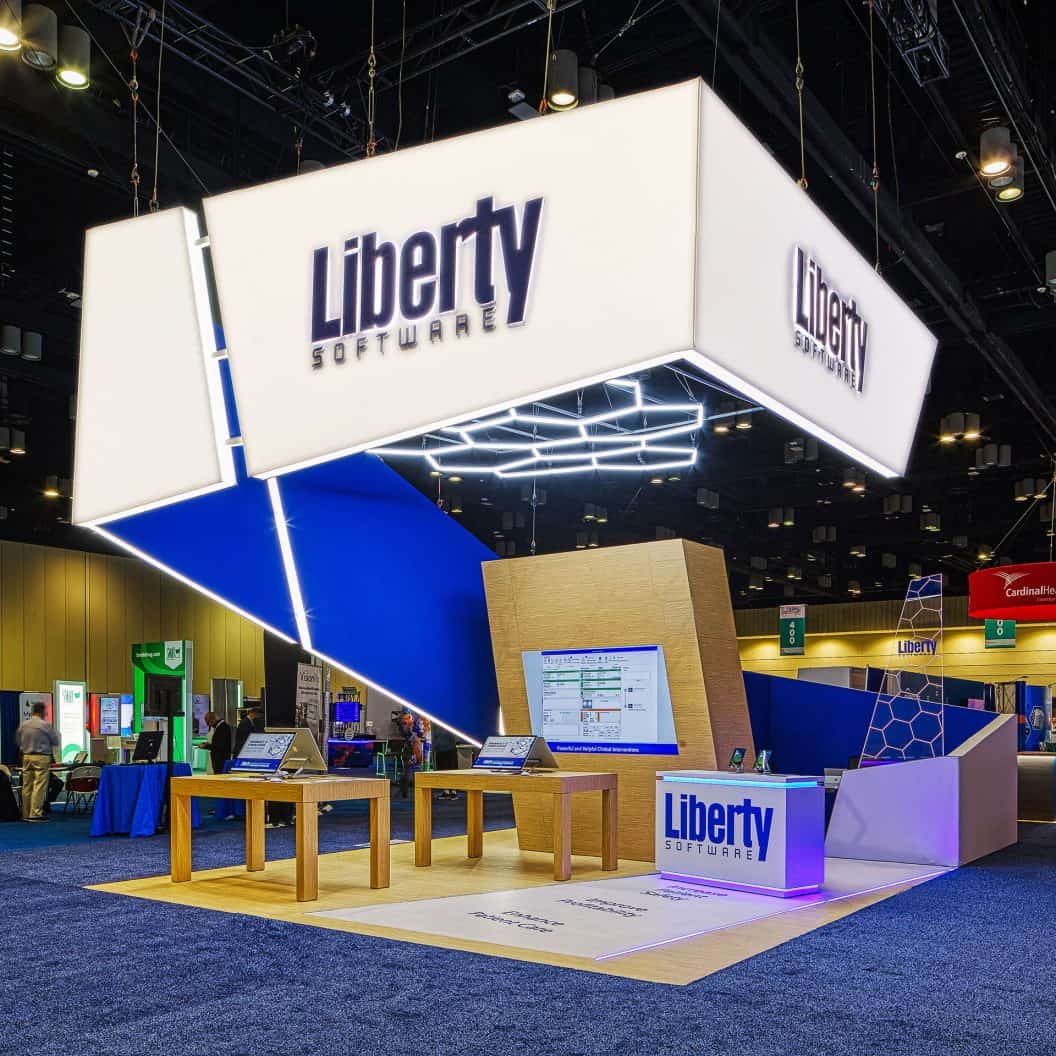 The last booth set up is our Island booth set up. The booth is aptly named because it is surrounded by aisles on all four sides, allowing attendees to approach it from any direction. They often range from twenty-by-twenty feet or fifty by fifty feet.
One of the primary advantages of the island booth is its high visibility. The island booth is open from all sides, allowing attendees to see your booth from a distance, making it easier to attract foot traffic. You are also allowed to hang anything from above your booth, which is a different aspect from the other booth setups.
As we know, trade show booths are indispensable in any trade show event. These carefully designed spaces serve as the dynamic stage where businesses can showcase their brand, and you are the performer. However, every stage has regulations, and your playing space is a part of that regulation.
Other Rules and Regulations
There's a slight difference between rules and regulations. Regulations are more formal and widely held, but rules can differ from show to show. For example, some shows only allow food to be catered by places in partnership with the convention center. Other places allow outside food to be brought into the booth.
Here are a few more rules and regulations to know.
Line of Sight
One of the biggest rules of trade shows and their events is the "Line of Sight Rule." A line-of-sight rule is where one trade show attendee blocks the view of their fellow peer's booth and creates an unfair advantage. Besides being incredibly rude, it has become the golden rule of treating your peers with the utmost respect.
Noise in the Booth
Another regulation that isn't about design is excessive noise. Each trade show has a maximum decibel level that trade showgoers must adhere to and respect. As a rule of thumb, if your noise is louder than a dishwasher or washing machine, it's too loud.
Photography
Another rule that is enforced at varying levels according to the trade show is "No Photography." At military and cybersecurity shows like AUSA or Black Hat, this rule is strictly enforced.
Canceling or Downsizing Your Booth
When it comes to canceling or even downsizing your booth, if you do cancel or downsize, don't be shocked if you get charged. Be sure to read the fine print when it comes to this situation, but needless to say, you'll get charged for leaving your space empty the day of.
Don't Suitcase
Suit casing is when an individual or a brand tries to elicit business from patrons or trade showgoers or acts like a sponsor and is not attached to the event. You will get ejected from the event. Only show up to a trade show with permission. It's one of the biggest no-no's at any trade show event.
Another term you should know is outboarding. Outboarding is when a brand tries to take advantage of the local trade show by placing an event by the trade show. Most hotels or rent spaces in the area around the venue won't do business with you based on this term alone.
Conundrums
The rules and regulations of the trade shows can be frustrating and inconsistent, but the fun of creating your stage, otherwise known as your booth, can be fulfilling. Creating fun and engaging booths while adhering to rules and regulations is essential to make your presence memorable.
Some fun additions to consider are interactive demonstrations, virtual reality/ augmented reality, or even a photo booth. The opportunities for you to do something unique while following the rules are there–if you can think outside the box.
Conclusion
We touched on many of the regulations and rules and gave you some brief ideas on what you can think about doing for your next trade show event. This will be a valuable steppingstone for brands looking to make the best of their next trade show appearance.
The Trade Group is a full-service trade show and event marketing company. We will work with you to create an exhibit or an event that brings in leads and helps you achieve your business goals. Contact us here or give us a call at 972-734-8585.