Trade shows are a strange place. It's rare to find such a high concentration of prospects researching for their next big purchase. And what makes exhibiting at trade shows so beneficial is the in-person aspect. After all, a face-to-face request is 34 times more successful than an email.
If that's true, then trade shows are a goldmine. At least, they can be if it's the right show. So, why does it so often feel like a numbers game? There could be several reasons.
If you lack a well-defined ideal customer profile, you may be wasting time talking to people who aren't your customers
If you don't have a system for qualifying and ranking various leads, you have little clue which leads to prioritize in the follow-up campaign
You don't have a realistic expectation of the purpose of a trade show pitch
For example, the B2B world often has longer sales cycle. The likelihood of someone making a purchase costing tens of thousands of dollars at a show is low. Therefore, the purpose of a pitch is not necessarily to close a sale. It's too big of a commitment without enough trust. You may have more success with a trade show pitch strategy that secures a smaller commitment like scheduling a meeting a week or two after the show ends.
3 tips for pitching effectively at trade shows
So, what makes for an effective pitch at a trade show? Does it really need to be 30 seconds or less, like everyone says?
There's nothing wrong with having a basic blurb that clearly describes what your business does and what makes it unique. But the problem with heavily rehearsed pitches is that they sound… well, rehearsed. Really, all that's needed is a single line. The real persuasion is in listening to the prospect and asking questions.
Follow these three simple tips for pitching effectively at trade shows.
#1 Be personable and genuine
First understand why most people attend trade shows in the first place. The Center for Exhibition Industry Research (CEIR) reports that attendees have two goals at trade shows:
Keep up to date with industry trends
See, touch and experience new products
That means a solid strategy for exhibiting is to focus on three things: People, Products and Learning. The best thing to do is be personable and genuine. Don't come across as rehearsed, needy or desperate. You're there to share your solution to a specific problem.
In addition, everyone walking on the show floor is expecting booth staff to leap out at them. That's why it's important to have a fun giveaway or experiential activation that naturally draws in visitors. For a tried and tested conversation opener, read this blog.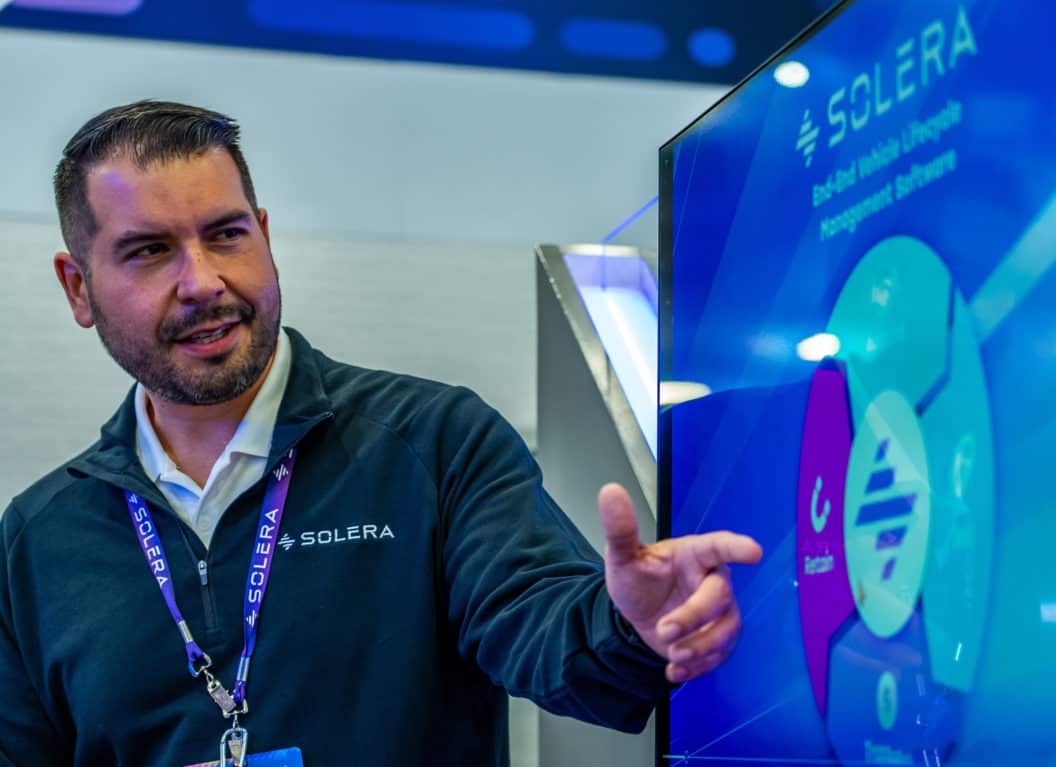 #2 Show and tell how the product benefits the prospect
Demonstrating the benefits of products and services is an art. Trade shows are powerful because people still want to touch, hear and see the products or services they're thinking about buying.
In his book, Tested Sentences That Sell, Elmer Wheeler points out three basic human desires when it comes to buying:
Self-preservation
Romance
Money
Self-preservation means prospects don't care about what your business does. They care about what it does for them. By romance, Wheeler means adventure, travel and so on. When it comes to money, people want to know how your product will make them money or save them money.
For large B2B trade shows, the greatest purpose of your exhibit is to build value in the minds of prospects. What are they getting? The benefit or offer must be compelling. As Wheeler says, "Don't sell the steak—sell the sizzle." Paint a picture for the prospect enjoying the product. For example, CRM software salesperson should consider these points:
Don't sell the price tag—sell fewer headaches
Don't sell the various applications—sell ease of operation
Don't sell the data dashboard—sell actionable insights
And so on and so forth. It's not that the price tag, capabilities and features should be tossed aside, but the price of the product becomes less important the more valuable it is in the eyes of prospects. And this is true for everyone.
#3 Give information freely
Don't be a scrooge. Digital marketing has changed the selling process by making valuable information freely available. For example, HubSpot reports that companies with blogs get up to 126% higher lead growth than non-blogging businesses. In the past, it was normal to hide the "secrets of the trade," but now educating people on manufacturing processes or operations is the key to building trust and rapport.
The same principle applies on the show floor. If a prospect qualifies as an A or B lead, spending some time in conversation about the current state of the industry places you as an expert and professional. Don't spend too much time rambling off random facts and anecdotes. It's also important to make the prospect feel like they're in charge and an expert themselves.
David Meerman Scott tells the story of how he discovered Grain Surfboards and became a huge fan of the company in his book, The New Rules of Marketing & PR. An avid surfer, he read in Surfer magazine about a trend back to wooden surfboards. So, he did a Google search on "wooden surfboards" which led him to a blog on grainsurfboards.com.
On that blog, Scott says he learned about the company's intricate process for creating hand-crafted wooden surfboards. The content was riveting, and he became a customer not long after. The lesson? Don't be stingy with great content and information!
Conclusion
If you practice these 3 tips for pitching effectively at trade shows, you can build trust and rapport much faster. The next thing to do is go for the close, whether it's a soft commitment to meet later or to make a purchase.
Want more advice? Contact us below and ask us about our booth staff training!
The Trade Group is a full-service trade show and event marketing company. We will work with you to create an exhibit or an event that brings in leads and helps you achieve your business goals. Contact us here or give us a call at 972-734-8585.