Want to boost performance by up to 38% at Interphex 2022?
Interphex is returning to the Javits Convention Center in New York in May 2022 with an estimated 600+ exhibitors and 10,500 global industry professionals. The pharmaceutical and biopharmaceutical leader for the last 43 years is open exclusively to industry decision-makers searching, recommending and purchasing technologies and services that produce quality products.
This year, professionals are emphasizing solutions to limit and prevent future pandemics by optimizing manufacturing processes.
So, how are you strategizing to set yourself apart?
A booth design that compliments your business's innovative vision, visually represents your company's values, and captures eyes from across the room is the place to start. Pairing an elegant booth design complete with high-def graphics, backlighting, hanging signs and experiential components such as product demonstrations or scalable models is great for increasing engagement.
But designing all of this can be daunting. For example, consider some basic components that need to be sorted out to achieve your goals:
Booth space
How much space will you need for demonstrations or your scalable models?
Booth design
Which design will give you the "WOW" factor and bring the leads you're looking for to the table?

Modular, portable, hybrid
Lighting
Graphics
Collateral
Booth location
What location is ideal for snagging prospects as they wind down the showroom floor?
You may have an idea for all the basic things you need. If that's the case, then there is more time to focus intently on the design of your booth.
---
The basics of a profitable show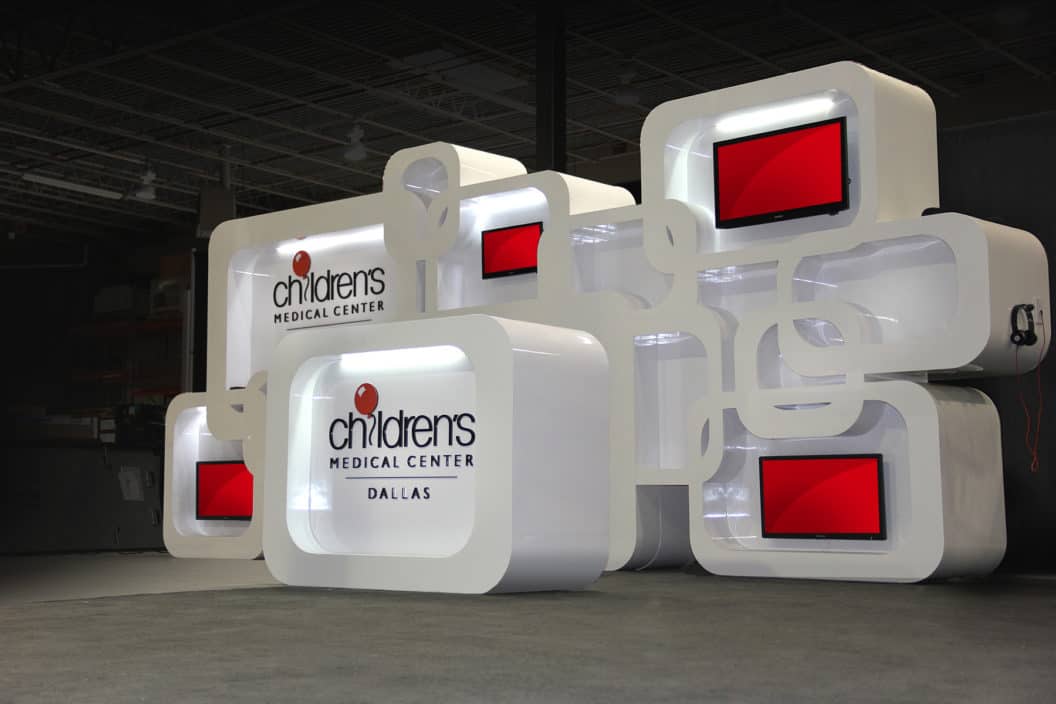 The principles for selling and marketing successfully at trade shows are simple and unchanging. Do the research. Pick the right show. Plan strategically. Design a booth that will attract the targeted audience. Follow up afterwards. If you can master these, you can increase your revenue, raise brand awareness and become a respected competitor in your industry. Put another way, make sure you:
Prepare, prepare, prepare
Understand your goals
Know how to measure your results for ROI
Train your booth staff
Understand the fundamentals of attractive designs
Concerning the last two points, here are some facts about eye-grabbing designs and booth staff:
80% of visitors remember tradeshow exhibits based on booth staffers
Large format graphics increase initial awareness by 78%
There is up to a 90% retention rate for hanging, backlit signs that rotate
These stats may have grown since coming out of the lockdowns as people are coming to value face-to-face interaction more than ever. We have observed elsewhere on the blog that, while the number of attendees has been down, the quality has risen. This is because the people traveling for business during this time are serious buyers.
Take these into consideration as you develop your event marketing strategy for securing leads.
Or just sketch what you want on a napkin
If you're a veteran and have the basics covered, then all you may want to do is sketch your design on a napkin. Seriously. Our in-house design team, complete with architects, builders, and graphic designers, is fully capable of transforming visions into reality. This is possible not just because of our amazing team of builders, but also because of our process for understanding your needs and goals.
What does that look like?
---
The six-step process for boosting performance
We've been in the tradeshow and exhibit business for over 30 years. Our process for helping boost your performance and sending leads to your table has developed into six distinct steps throughout the decades.
1. Listen
We meet with the team to discuss the overall direction of the project, including specific deliverables, KPIs, and creative solutions.
2. Discover
After understanding the goals for the project, pointed questions are asked. Our team will then present proposals that will accomplish the goals in the most effective method.
3. Design
Taking the valuable information from the two previous steps, we transform the key message, branding and design elements into a complete, dynamic package that turns heads.
4. Refine
Revisions and reviews are necessary throughout the design process to ensure everyone is on the same page.
5. Build
This is the fun part. The building is done in our 350,000-square-foot production facility. This allows us to complete your project from start to finish in one place, cutting down on lead time and costs for you.
6. Implement
Finally, this is the most exciting step. You get to preview the vision that has been actualized before it goes on display to attract the crowd.
The length of the process varies depending on the scale and clarity of what our client wants. With our most trusted clients, we've designed booths with as little information as "make it look awesome"–which is what we do with everyone entrusting their exhibit design with us.
The Trade Group designs custom trade show displays that boost your brand's trade show performance and provides full turn-key solutions to your event needs. Discover what we can do for your next event at Interphex 2022 contact us here or give The Trade Group a call at 972-734-8585.