PAX West ended its 18th edition at the Seattle Convention Center on Labor Day. One of the largest gaming conventions in the world, the event typically brings together the most popular video game creators, distributors, computer manufacturers and publishers.
Standing tall and proud amidst thousands of attendees and companies that are household names is no easy task. A little ingenuity is needed to strengthen your presence.
Advanced Micro Devices (AMD) is more than 50 years old. The company is unwavering in their commitment to advancing innovation in high-performance computing, graphics and visual technology. Their popular graphics cards are used to enhance the gaming experience of many avid gamers.
AMD's textured logo blends old hardware with visions of the future
Combining two very different—sometimes opposing—concepts requires creativity of the highest order. For example, the past and the future. Both are beyond the present, but one represents realized potential and the other unrealized potential.
What AMD did to blend the past and future together was to replicate their standard logo with both old and new computer hardware parts. See it pictured below:
The sign attracted attendees passing by and gave them a unique photo opp.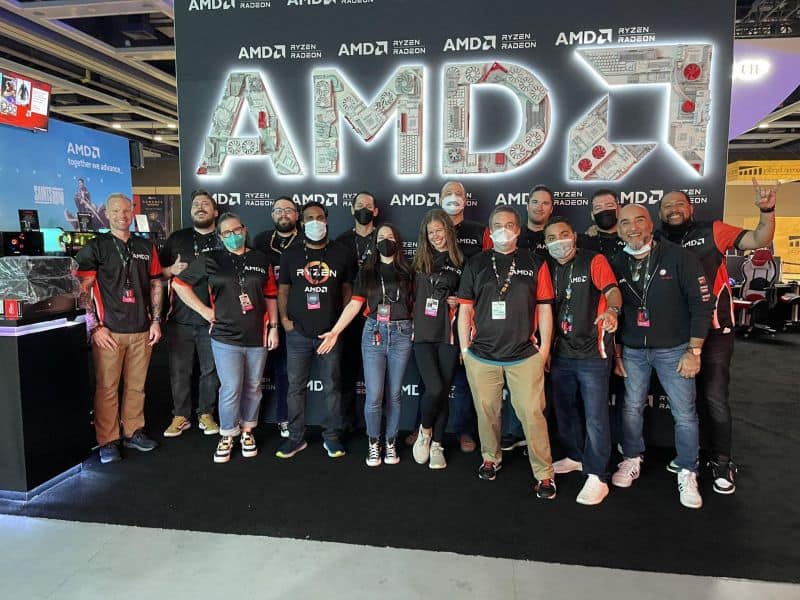 At the end of the day, what's in a name? A lot. But what matters most is spending quality time with colleagues, clients and friends. An exhibit is a place where all three come together while moving business forward.
The Trade Group is a full-service trade show and event marketing company. We will work with you to create an exhibit that brings in leads and helps you achieve your business goals. Contact us here or give us a call at 972-734-8585.