Las Vegas, often called "Sin City," is renowned for its vibrant nightlife, world-class entertainment, and an atmosphere that invites visitors to indulge in their wildest fantasies. However, beyond the glittering lights of the Las Vegas Strip, the city also plays host to a different kind of spectacle that draws entrepreneurs, industry professionals, and enthusiasts from around the world—trade shows.
Trade shows are a testament to Sin City's multifaceted appeal, where the pursuit of business success seamlessly mingles with the city's reputation for extravagance and excess.
In this juxtaposition, trade shows in Las Vegas offer a unique platform for companies to showcase their brands, connect with potential clients, and partake in the spirit of the city's allure while pursuing their professional objectives.
Las Vegas hosts almost 24,000 meetings and conventions throughout the year, eventually dawning the number one spot for trade show destinations in North America for an impressive 26 consecutive years.
Last year alone, more than 5 million people attended a convention in Las Vegas. Now it's time for you to explore the ever-popular trade show destination with our top 10 biggest trade shows in Las Vegas in 2024.
10. World of Concrete
This event serves the vast and most unknown commercial concrete and masonry construction industries. The annual international event occurs every January or February at the Las Vegas Convention Center. However, this event will happen from January 23 through January 25 at the Las Vegas Convention Center.
This event continues to draw in record numbers; last year alone, the event attracted over 48,000 industry professionals from over 120 countries.
9. International Pizza Expo
The 40th annual International Pizza Expo is the world's leading pizza event, with thousands of pizza professionals flocking to Las Vegas from March 19 through the 21st. At this pizza-driven expo, it is strictly everything pizza, from educational sessions taught by top pizza professionals to national competitions.
8. MAGIC Las Vegas
MAGIC Las Vegas is crowned as the world's largest fashion marketplace and apparel event in the United States. This event is held each February and August. This conference is sometimes called the Apparel Trade Show in Las Vegas. MAGIC showcases women's, men's, and children's apparel, footwear, accessories, and clothing manufacturing worldwide.
This event will again be held at the Las Vegas Convention Center with over 2,600 brands from 45-plus countries. The first round of dates for MAGIC Las Vegas will be February 13 through the 15th.
7. NAHB International Builders Show Las Vegas
The NAHB International Builders' Show Las Vegas is the largest annual light construction expo show worldwide. Initially organized by the National Association of Home Builders, this upcoming 2024 Builders Show will bring together around 1,400 top manufacturers and lighting suppliers from around the globe.
The last International Builders' Show in Las Vegas brought nearly 70,000 residential construction professionals. This event will be on February 27 through 29th at the world-famous Las Vegas Convention Center.
6. Cosmoprof North America
Cosmoprof North America is the largest and leading B2B beauty trade show in the Americas. Cosmoprof showcases the best in everything beauty. This includes skin care, hair care, nail care, fragrances, organic beauty products, tools, and accessories.
This three-day event will see over 40,000 potential visitors, with over 1,435 exhibitors from 43 countries. Participants will fully immerse themselves in everything beauty.
5. Automotive Aftermarket Industry Week (SEMA Show)
The Automotive Aftermarket Industry Week, or the SEMA Show, is a trade-only event. The Specialty Equipment Market Association organizes this event, pulling more than 70,000 quality domestic and international car buyers each year. The SEMA Car Show is the world's number-one automotive trade event. It brings manufacturers and buyers together in every facet of the automotive industry, from traditional performance vehicles to street racers.
This three-day event will be held from November 5 through November 8 at the Las Vegas Convention Center.
4. Consumer Technology Association (CTA)- CES 2024: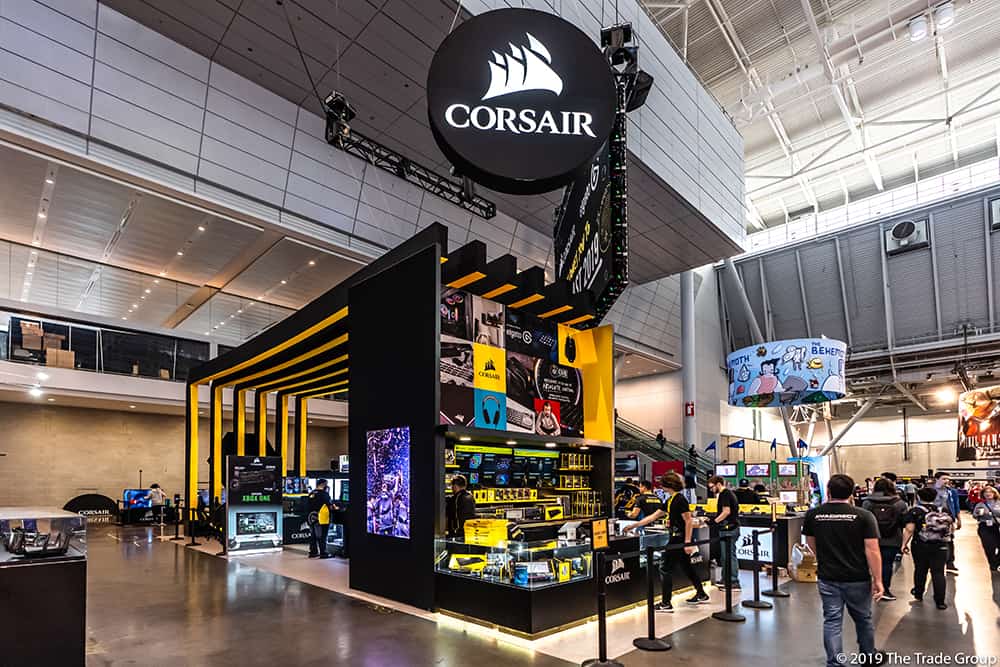 Consumer Technology Association hosts the premier conference for tech powerhouses and innovative startups. It's even considered the Super Bowl for global consumer electronics and consumer technology.
This conference is known for showcasing game-changing consumer technologies to the world but also for building strong potential client relationships with new and existing industries.
3. SHOT Show 2024
For the last 44 years and the 24th year at the beautiful Venetian Expo & Convention Center, the firearm industry has found its largest trade show for target shooting, hunting, and law enforcement products. This event will take place on January 23 through January 26.
This event is owned and sponsored by the National Shooting Sports Foundation. This four-day event will attract over 60,000 firearms and outdoor industry professionals. This event will host more than 2,000 exhibiting companies from all walks of the industry.
If you love guns, hunting, or are a figure in law enforcement, this is the expo for you.
2. National Association of Broadcasters (NAB Show)
This conference will be celebrating its 100 years of innovation. The 2024 NAB show is the ultimate place for professionals passionate about media, entertainment, and technology. The world's most talented directors, producers, and industry creators converge in Las Vegas to discover new industry technologies and share their professional experiences and insightful knowledge.
This conference will feature more than 1,000 companies, which includes 140+ first-time trade show goers showcasing the latest trends and technologies driving the industry forward. This event will happen at the Las Vegas Convention Center on April 14 through 17, with roughly 103,000 attendees, with over 27 percent being international attendees.
1. Las Vegas Souvenir and Gift Show
This is a MUST-attend trade show if you're in the souvenir business. This is by far the largest show of its unique type. This expo is made to make your little corner shop in your little town shine with its unique products. This incredibly popular trade show will be taking place from September 17 through September 20 at the Las Vegas Convention Center.
Conclusion
Trade Shows in Las Vegas hold a vital place in the business world for, as you can see, numerous reasons. These events serve as dynamic platforms for a brand to showcase its product network and stay up to date with industry trends.
Las Vegas, with its world-class infrastructure and entertainment options, offers a unique backdrop that will naturally enhance your trade show experience. Check out a trade show the next time you're in the Sin City. You won't be disappointed.
The Trade Group is a full-service trade show and event marketing company. We will work with you to create an exhibit or an event that brings in leads and helps you achieve your business goals. Contact us here or give us a call at 972-734-8585.