What is SEMA?
The Specialty Equipment Market Association (SEMA) was founded by car lovers for car lovers. The specialty parts and accessories industry is integral for hobbyists who always search for ways to improve their vehicles or make them more unique.
The organization is known for hosting the annual SEMA Show in Las Vegas. However, the organization also provides various services for its members, most notably representing car hobbyists' consumer rights to customize their vehicles.
Because of SEMA's love for all things cars, they have grown into one of the largest trade shows in the world. They offer an exhibit hall for every aspect of the industry, including:
Restyling & car care accessories
Powersports & utility vehicles
Trucks, SUVs & Off-Road
Mobile electronics & technology
Business services
Racing and performance
Hot rod collectors
Restoration & collision repair
Tools & equipment
In 2021, when the show returned after canceling the previous two years, they managed to attract over 100,000 attendees, 1,400 exhibitors, and 1,000 show vehicles.
Now that travel restrictions are easing and attendance is rising for trade shows across the board, 2022 is looking to be even bigger and badder. Preparing for a successful exhibition at the show will take strategic marketing and planning.
---
When is the SEMA Show?
This year's annual show will take place October 31st—November3rd at the newly expanded Las Vegas Convention Center. Other SEMA events happening soon include:
SEMA Future Trends Feb. 2th, 2023
Keystone Big Show Networking Event Feb. 10th, 2023
SBN Women's Leadership Forum March 1st, 2023
WTC Coffee and Conversations Series June 1st, 2023
WTC Coffee and Conversations Series September 7th, 2023
---
Who Attends SEMA?
SEMA's Exhibitor Brochure gives great information on the show's demographics. For example, roughly 87% of attendees are decision-makers or have influence with purchasing.
Overall, the buyers at SEMA go to the show to learn about new products, services and trends. According to show management,
87% go to see new products
78% to get new ideas
72% keep up with trends
65% find new vendors
60% see existing vendors
Their survey of attendees also concludes, with regards to those seeking to buy at the show, that
92% of buyers agree that the show was worth the time and expense to attend
75% of buyers said they are more likely to buy from a company that exhibits at the show
67% of buyers have been in business for over 10 years
From this data, it's clear there are plentiful opportunities for exhibitors to get their business in front of thousands of people.
At the same time, there are thousands of exhibitors competing to attract prospects to their booth. And that's where knowing the latest exhibit can give you a competitive edge.
---
The coolest exhibit trends for standing out at SEMA
Because the show brings together all sectors in the specialty parts and accessories industry, we'll cover some exhibit and design ideas that pair nicely with different kinds of sectors.
In every highlight, we will be stressing these two points:
Your exhibit should be attractive AND functional
Focus on communicating what you do
In other words, a strong exhibit will immediately impress upon prospects WHO you are, WHAT you do and WHAT you do BEST.
Like how red wine pairs with red meat or white wine with fish, the design of your exhibit should play to your business' strengths.
High-tech booths for mobile electronics and technology-focused businesses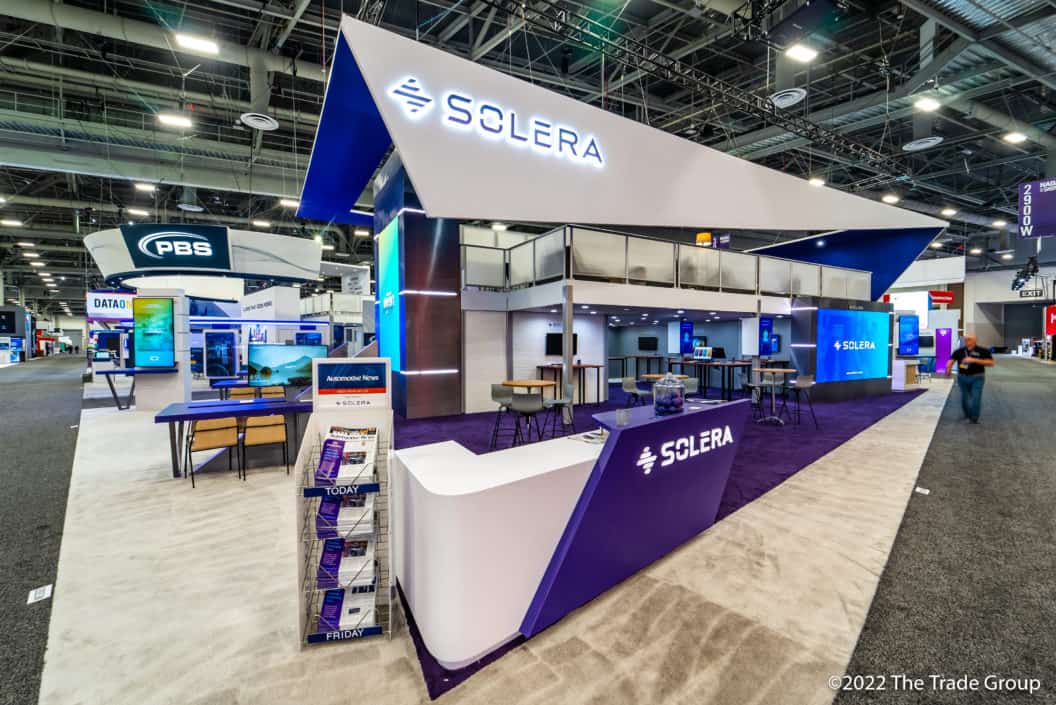 The Trade Group has designed several successful booths for automotive companies that provide tech services.
For example, the image above is the booth for the world's leading vehicle lifecycle-management company, Solera. They exhibited at the National Auto Dealers Association (NADA) in Las Vegas earlier this year.
You can read how the show and catch some detailed analysis of their design here. In a nutshell, Solera asked us to design an exhibit that visually represented their artificial intelligence (AI) enabled tech and their core values.
To accomplish this, backlit signs and counters mixed with multiple touchscreen stations were used to showcase their high-tech capabilities.
Hanging signs for displaying hot rod collectors, trucks, SUVs and Off-road vehicles
The product speaks for itself. That's true. But sometimes it needs a microphone.
Hanging signs are of great effect when paired with a product being displayed in a crowded area. A proper hanging sign with rotations and backlighting can improve retention rates by up to 90%.
Lounge rooms for business services
Finally, conference rooms and lounges are increasing in popularity at trade shows across the board. Being away from the show causes many exhibitors to think about how to improve the experience for attendees and provide value for them.
After walking the show floor, a comfy lounge area is a perfect way to give a prospects' sore feet a break. Plus, doing business while standing all day is tiresome anyway.
It's taking longer to build custom exhibits
The last exhibit trend is not about design but about the time it takes to assemble the design. Nearly every trade show exhibit company is experiencing material and labor shortages.
If you feel a design-driven solution will help you meet your goals for the show, now is a great time to contact reputable exhibit houses.
Thankfully, almost everything The Trade Group builds is constructed in-house at our 350,000 sq ft facility in Grapevine, TX. Our in-house experts help save you time and money.
---
Get our whitepaper for more design ideas
As you can see, SEMA is no joke. Discover more about SEMA 2022 and other upcoming trade shows by using our trade show search tool.
Increase your return on investment and bring in more leads at SEMA by contacting us or calling The Trade Group at 972-734-8585. We'll create a design proposal that will help you raise brand awareness and attract buyers.