BDNY promises a highly curated event for manufacturers of design elements for hospitality interiors
The Boutique Design New York (BDNY) 2022 fair is bringing designers, architects, purchasing agents, hoteliers, business owners and developers to meet with interior design manufacturers.
Exhibitors can expect to have productive and meaningful conversations with attendees.
Located in the epicenter of the hotel industry, BDNY gives you the chance to get immersed in the products, projects and personalities of the hospitality industry.
Since the show is all about design-driven solutions, familiarizing yourself the newest exhibit trends will help you give you an edge for the show.
Here's what's trending in the exhibit design industry.
---
1. More space devoted to product demos and displays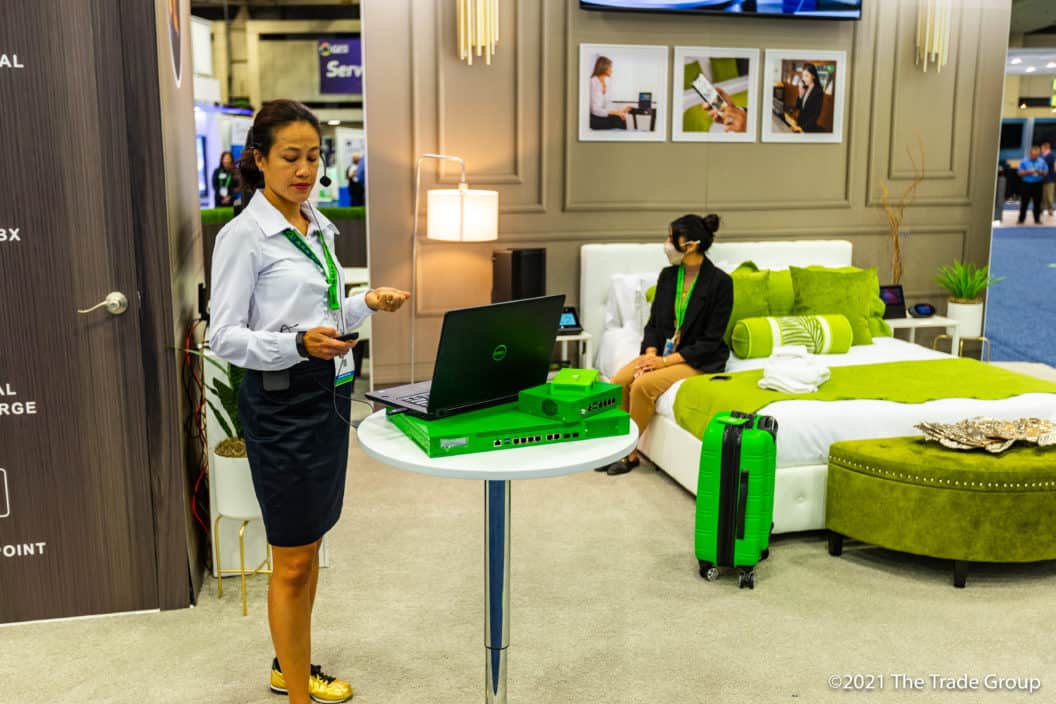 According to the Center for Exhibition Industry Research (CEIR), attendees go to tradeshows for two reasons. Up to 98% go to shop for products and services, and 97% go to learn about new products, industry trends and competition.
Interacting directly with a product creates a memorable experience in the prospect's mind and is often what turns them into believers.
It's not surprising after two years of a pandemic that businesses are ready to make their big debut with a bigger booth space to display and demo their products and services.
2. Conference rooms are growing in popularity
The return of tradeshows has been gradual.
During an extended break from exhibiting, many have used the time to reflect on how to make meeting with booth staff on the show floor more enjoyable.
In the past, a crowded and noisy show floor could make learning about new products difficult. What was that? What did you say?
Before the pandemic, exhibitors were already moving towards including a conference room/space in their booth to provide a quiet, secluded space where visitors can relax and not strain to hear what's being said.
Another benefit of having the separation from the show floor isn't just to block noise, but buffer visual distractions.
3. Businesses are using branded lounges to offer more value
In addition to conference rooms, exhibitors have also found a solution for making the show floor a more comfortable experience while advertising their services.
A branded lounge is a space away or closed off from the exhibit hall, normally sponsored by a business, where attendees can go to relax, charge their phone and rest.
In previous years, attendees could expect sore feet, glazed eyes and general exhaustion from meeting with show guests all day.
A branded lounge is a pit stop that allows attendees to reenergize, so they can finish the show strong.
4. There is a greater emphasis on experiential elements
Experiential activations, also known as immersive elements, are marketing tactics meant to turn passive prospects into active participants. Experiential elements can include:
Games (mock-ups of Jeopardy, Family Feud, etc.)
Live stream interviews with thought leaders
The key to using an experiential activation is to make sure it involves at least three of the five senses, such as taste, touch, sight, smell and hearing.
Finance Online reports that 70% of consumers become repeat customers after an experiential marketing event.
5. Focus on health and safety
Health guidelines and policies are now a part of our regular communications.
Any given show today will have multiple hand-sanitizer stations spread throughout the exhibit hall.
However, many booths are including their own station to signal to attendees that you care about their health and safety.
This trend is likely to last for a long time.
6. Attendance is surging for trade shows
Since 2021, The Trade Group has been active in attending shows and helping our clients succeed in the context of a slightly different exhibit hall.
Our best-case study from last on this topic is our bottom-line video covering MRO Americas 2021. However, MRO Americas 2022 just finished in Dallas, TX with record-high attendance.
According to CEIR, 87% of exhibition attendees plan to participate in a trade show this year in 2022.
7. Increased lead-time is needed for exhibit construction
If you're wanting to build a custom exhibit to make a high impact for any event, contacting reputable exhibit houses should be a top priority. This ensures your materials arrive on time and in one piece.
Labor shortages, material shortages and shipping delays are increasing exhibit construction time by up to 6 months and more. This is a trend nearly every tradeshow display company is experiencing.
Thankfully, almost everything The Trade Group builds happens in-house in our 300,000 SF facility in Grapevine, TX, helping us to control the entirety of the exhibit design process from ideation to execution while, at the same time, allowing us to cut time and costs form our clients.
---
This is a great time to get started on a design-driven solution for your booth space
BDNY provides plenty of opportunities for exhibitors. Discover more about BDNY 2022 and other upcoming trade shows by using our trade show search tool.
Increase your ROI and attract more buyers at BDNY by contacting us or calling The Trade Group at 972-734-8585. We'll create a design proposal that will help you raise brand awareness and bring in leads.